Home Page › United States › ClothRoads Invited to Textile Bazaar in San Francisco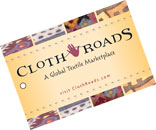 ClothRoads will be exhibiting in San Francisco on October 21st at the 4th Annual Textile Bazaar.
A treasure trove of unusual fabric will be available at St. Anne of the Sunset Church, 1300 Funston (at Judah) in San Francisco.  This event is sponsored by The Textile Arts Council of the Fine Arts Museum in San Francisco.  Thirty four vendors will show their wares on Sunday October 21 from 10 am to 4 pm. To name a few treasures you will find:  extraordinary fabrics, ethnic clothing, jewelry, home deco, textile books and much more.  Parking is adjacent to the church and is free. Please share this with your Bay area friends and families.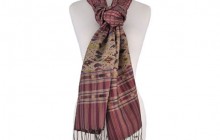 ClothRoads will feature handwoven artisan textiles and accessories, cloth, notions, books, DVDs, and yarn from Peru, Laos, Guatemala, Madagascar, India, Mexico and more.
All products featured at ClothRoads.com support artisan-quality women cooperatives dedicated to creating a sustainable environment for the artists and their families.