Home Page › United States › ClothRoads Studio – Touching a World of Textiles
Naturally dyed fabrics, handwoven ikats, exquisitely soft cashmere and huggable wooly toys. Welcome to my textile world,  CLOTHROADS: A Global Textile Marketplace, and my work home for the past year.
This old Victorian charmer in old town Loveland, Colorado, was the original home of Interweave Press. Good karma resides here where many textile ideas, schemes and dreams were hatched (and are still hatching). It's a haven for textile lovers–every textile within reach and awaiting your visit.
My Journey Melds with ClothRoads
Everything we do in life is paid forward into the next part of our journey. I learned to sew at nine, took up quilting in the 1970s, then moved on to weaving, spinning and dyeing and never looked back. In my professional career, I spent more than a few years constructing over 100 exhibitions, many of which were about textiles. This design and organizing experience now comes into play in the ClothRoads studio.
And as a textile historian, my research on ancient Andean textiles has been a fascinating journey following a thread that stretches back almost 10,000 years and influences the contemporary Peruvian Textiles that we feature in our studio. The conservation and analysis of ancient cloth deepens our appreciation of the critical importance of textiles throughout history and helps us understand contemporary textile work all over the world.
Working on the cloth road is different every day. When you call or send an email, I am usually the one who will take up your cause and look for ideas and solutions. I may be wrangling inventory, scrambling some numbers, sending you a package or rearranging the studio for another season of textile fun. The studio is the place where everyone gets to touch all of the textiles – no hands off warnings as in museums.
For Makers and Textile Lovers
Are you considering whipping up some fabulous textile gifts for the holiday? Don't forget we have everything you need to make cool stuff, so all of you makers out there – knit, dye, sew, stitch, enjoy – make awesome stuff for the holidays and share your cultural yarn stories with all of us. If you don't make your own goodies, ClothRoads is a great place for one-of-a-kind gifting , special touches for your home, plus each purchase supports a textile artisan and their family. What a great way to celebrate textiles!

I have helped some you in person and enjoyed long discussions in the studio. Many of you have sent me off to discover new ideas through a quick phone conversation. I look forward to meeting you when you have the chance to stop by in person. For those who are phone or email friends, put ClothRoads on your next travel destination. The studio is open Tuesday through Saturday 10 – 3 p.m.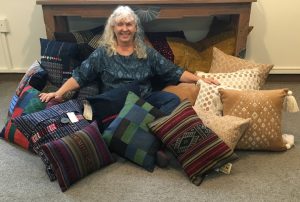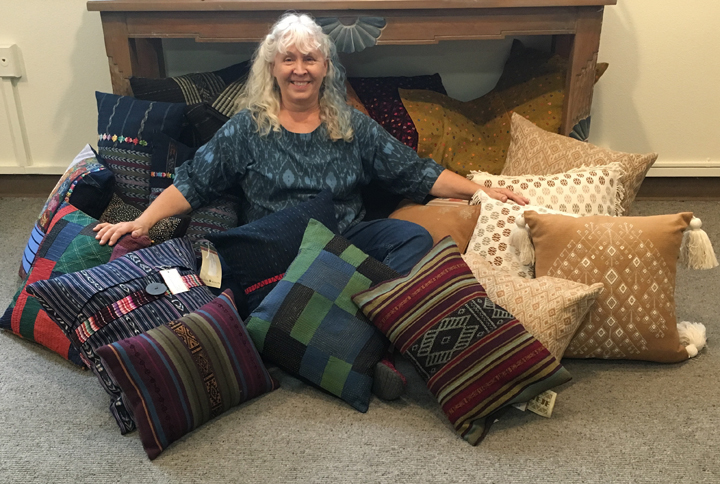 Wish you were here!  Judy