Home Page › Dyeing › ClothRoads Wish List—New Textile Books of 2018
Being of a certain age in life, downsizing seems to be a focus. Purging of yarns and other weaving implements is somewhat easy yet I still conjure up all sorts of potential projects. But books! I could surrender almost everything else except these, my textile books. Every year, a few more are added to the shelves and nary a one leaves, unless it's passed on to another devoted friend who is only starting their library, or researching a new subject. Books—they could be recycled into my small house of the future. At least I would know my world of textiles surrounded me, albeit in a different form. May the following books on our wish list introduce you to the global world through the lens of cloth–its artisans, its making, its history, its stories. We complete our list with new releases from our sister company, Thrums Books.
Marilyn Murphy's Wish List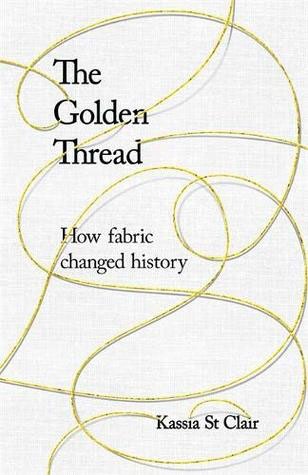 The Golden Thread: How Fabric Changed History
Kassia St Clair
One would think that a book about fabric and history would be filled with maps, old, grainy black-and-white photos of Queen Elizabeth I wearing garments adorned with lace edging all the way to her petticoats, or a Viking ship soaring through the seas with wind pounding the woolen sails.  But no, this 352-page book has no images whatsoever. Instead, author Kassia St Clair quickly engages us with lively, colorful prose as she delves into the makings and use of linen shrouds of Egyptian mummies all the way to nickel-titanium alloys used in space suits for future astronauts.
Normally, I wouldn't be absorbed into a book about fabric history after having read dry texts from college days. But even without images, this elegantly designed book led me through with intriguing sub-chapter titles, such as, "Ruff Diplomacy" or "From Flock to Fleet" and call-out quotes from the likes of Vedic mantras to George Orwell. Add to this, a glossary, 23 pages of notes, a 16-page bibliography, and an extensive index, and this well-researched book is at the top of my wish list.
I learned about fibers and their origins, to the ways they were/are prepped, spun and dyed, to the various weaving looms used globally–all toward the fabrication of textiles to clothe and adorn, to battle and trade over, and to be buried and entombed for the beyond. The Golden Thread isn't a textile history book per se, but an enlightened adventure into what we have worn against our skin past, present and future.  John Murray, Great Britain, 2018.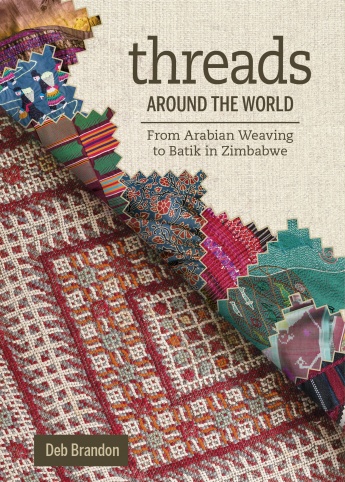 Threads Around the World: From Arabian Weaving to Batik in Zimbabwe
Deb Brandon
Textiles connect us and bind us to each other. They represent the many hands and hearts of artisans who use these cloths in performing a daily task or marking a ritual in their lives.
Each textile Deb Brandon chose to portray conveys a story beyond the artisan, who day after day stitched, wove, dyed, printed, or knitted the cloth into existence. Brandon connects the threads of her life with those of the maker–her personal connection to them, how she came into ownership of the piece, and what intrigued her to learn more. Threads Around the World is culturally and visually rich, leading you through nineteen countries and twenty-five techniques, striking the right balance of conveying the history, tradition, process and tools of each textile. This well-researched and engaging book with a 197 color images is perfect for anyone who wants an introduction into textile traditions. Schiffer Publishing, PA, 2018.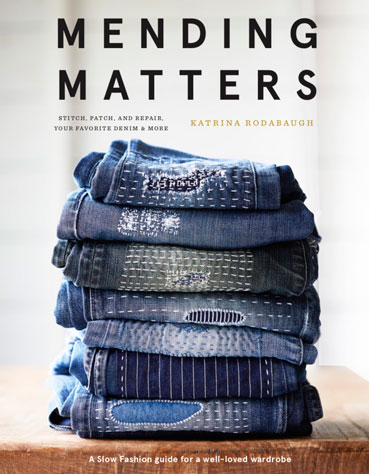 Mending Matters: Stitch, Patch, and Repair Your Favorite Denim & More
Katrina Rodabaugh
The genesis for this book started with an art project of Katrina's called Make Thrift Mend. It was in 2013 when she hit pause and started a slow shift, vowing not to buy any new clothes for a year. As an environmentalist, an artist, and an ardent clothes buyer, she questioned why she hadn't really looked at what she bought and wore before now. By year three of Make Thrift Mend, Katrina had refined her approach to Slow Fashion, acquiring or making only ecologically sustainable and ethically-produced clothing. Her guiding principles became: slow down consumption, evaluate needs, select quality fibers,
prioritize fair labor or secondhand, learn techniques to care for clothing and consider how to extend a garment's usefulness. Mending had to become center stage in order to extend the life of the garment.
In Mending Matters, you'll learn many basic sewing techniques, the necessity for patching, darning, weaving, and creative reuse of clothing. I'd recommend this book for makers whose lifestyle choice was attuned towards sustainability. Otherwise, you may be starting from ground zero and purge your entire clothes closet. At the very least, Katrina's mending techniques and advice are right on trend with the current approach to less is more. Abrams, NY, 2018.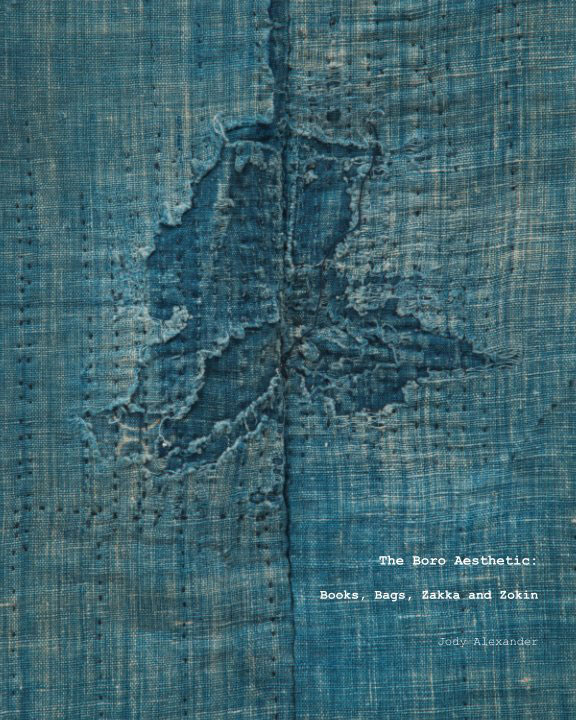 The Boro Aesthetic: Books, Bags, Zakka and Zokin
Jody Alexander
This self-published book may inspire you to take up needle and thread to learn the basics of sashiko stitching, the Japanese word for the small, straight stitches that are the core of boro cloth. Boro is a word used to describe Japanese textiles that have been pieced, patched, repaired and passed down from generation to generation. Author and artist, Jody Alexander, explains: "Japanese boro textiles come from a place, time and need to extend the life of cloth by strengthening it with stitches, patches and repairs. Therefore, we cannot make boro. We can, however, be inspired by boro."
While this book contains information from Jody's three popular in-person workshops, I was drawn in by images from Jody's personal collection of Japanese boro textiles and her reflections on workshop discussions. My personal favorite workshop is the Sampler Book–laid out with clear, descriptive how-tos, images and drawings thus teaching you the making of each of the fabric pages of stitching. (I also went to Jody's website to see her artwork, follow her teaching and exhibiting adventures, and flag her online classes.)
Blurb Books, 2017. Also available in ebook formats.
Judy Newland's Wish List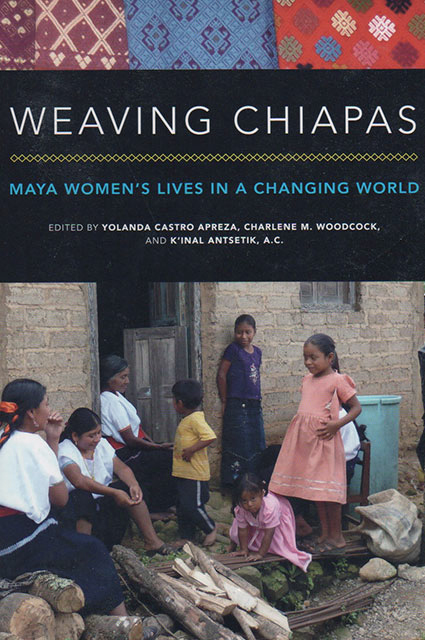 Weaving Chiapas: Maya Women's Live in a Changing World
Edited by Yolanda Castro Apreza, Charlene Woodcock, K'inal Antsetik, A.C.
This book gathers hundreds of Maya women's voices together as they discuss all aspects of their lives. Learning about the evolution of the cooperative, Jolom Mayaetik, is an inspiring revelation of life in communities throughout Chiapas, each one different and unique. The book is laid out in three sections: A Woman's Life, from Childhood to Marriage; Life in the Community; and The Importance of Our Textiles. Each section features the thoughts of the women of Chiapas who were interviewed. The Afterword includes an excellent history of the weavers and the formation of various cooperatives. The book helps us understand the complex political structures that women have dealt with throughout their lives. For a deeper understanding of the women of Chiapas, this cultural and historical perspective is a must read. University of Oklahoma Press, OK, 2018.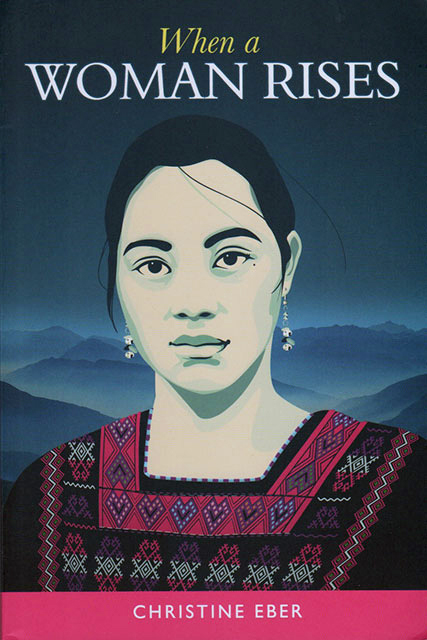 When a Woman Rises
Christine Engla Eber
Christine Eber, professor emerita of New Mexico State University in Las Cruces, has lived, worked and loved the people of Chiapas for a lifetime. She blends all of these women's voices into her novel, When a Woman Rises. The main character, Magdalena, shares her life story with her daughter Veronica by remembering and honoring the life of her dearest friend Lucia, who disappeared years before and no one knows what happened to her. Sadness and grief are overshadowed by the joy of gaining strength and courage to live a life with purpose and independence.
Celebrate a culture that thrives in the highlands of Chiapas, persevering through death, destruction, war, political upheaval, hunger and economic struggle. In a touching tribute to the difficulties and the beauties of life as Maya women of Chiapas, this novel will lift your spirits this holiday season through the grace of these women. Christine creates an offering of understanding that can pass between cultures. This story makes your soul sing. Cinco Puntos Press, TX, 2018.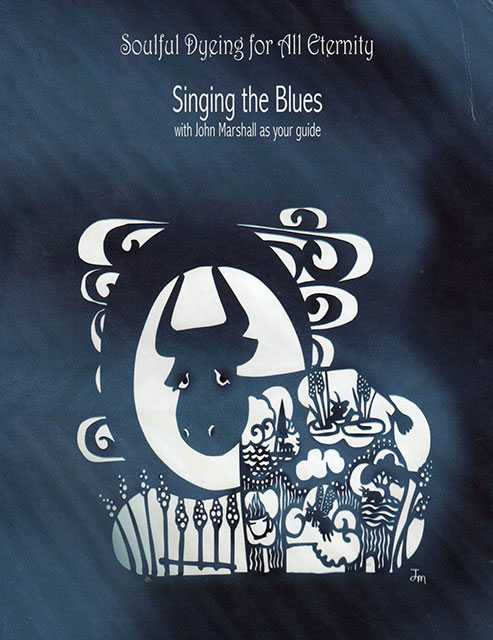 Singing the Blues with John Marshall as your guide
John Marshall
John Marshall shares a lifetime of devotion to indigo with all of us. Sharing his secrets of soulful dyeing takes us on a journey through the how-to of growing, processing and dyeing with indigo, but also the why. He gives us history, culture, botany and science in one slim volume. His knowledge and love of Japanese culture and indigo dyeing is deep and shines through on every page. He explains the simplicity of fresh leaf dyeing and making rubbings, but also eloquently explains the more complicated methods of extracting color from indigo leaves, including traditional Japanese sukumo. I was intrigued by his composting method using the same rotating drum as many of us use for our household compost. I can't wait to try this! John's knowledge of Japan and his ability to read old texts has provided a deep understanding of the possibilities and approaches to indigo dyeing. Illustrations of beautiful, creative examples of John's work and Japanese textile inspiration are included. The book is dedicated to Dorothy Miller, whose classic book, Indigo from Seed to Dye has been an inspiration to many. Sing the happy blues this holiday season with John. Saint Titus Press, CA, 2018. 
Women Artisans of Morocco: Their Stories, Their Lives
Susan Schaefer Davis
Fadma Wadal is a feisty old woman and a great storyteller. She remembers using a raw fig as the whorl for her spindle; with wool she stole and hid under a gravestone, she spun; and with a loom fashioned out of sticks, she wove. Fadma is the first artisan you will meet in the pages of this extraordinary book, but you will meet other artisans from across the country, those steeped in the ancient traditions of their cultures and those who are carving new roads in the social landscape. From button makers near Fes to weavers in isolated rural villages, each woman tells her story of economic survival and adaptation, and the work of her hands—the foundation of everything.
Thrums Books, April 2018. 34.95. Also available in eBook formats.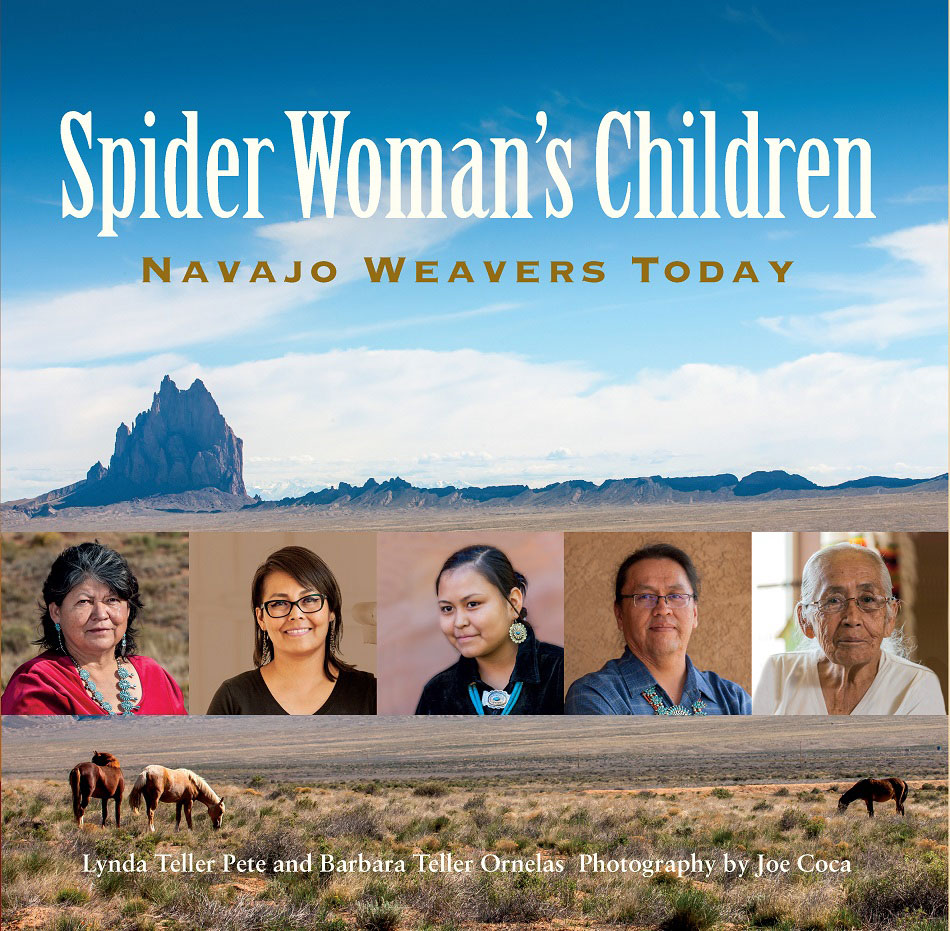 Spider Woman's Children: Navajo Weaver's Today
Lynda Teller Pete and Barbara Teller Ornelas
At last, a book about Navajo textile traditions written by Navajo weavers. The life stories of more than twenty weavers from ages sixteen to eighty-eight illustrate the beautiful and complex world of contemporary Navajo life, art, and family. Because the authors are fifth-generation Navajo weavers, they tell each weaver's story with an authentic voice, in-depth perspective, and a treasured kinship. They deftly explore a world shaped by history and rich cultural traditions. A must-read for anyone with an interest in Navajo or Native American culture, history, and textile traditions.
Thrums Books, September 2018. $34.95. Also available in eBook formats.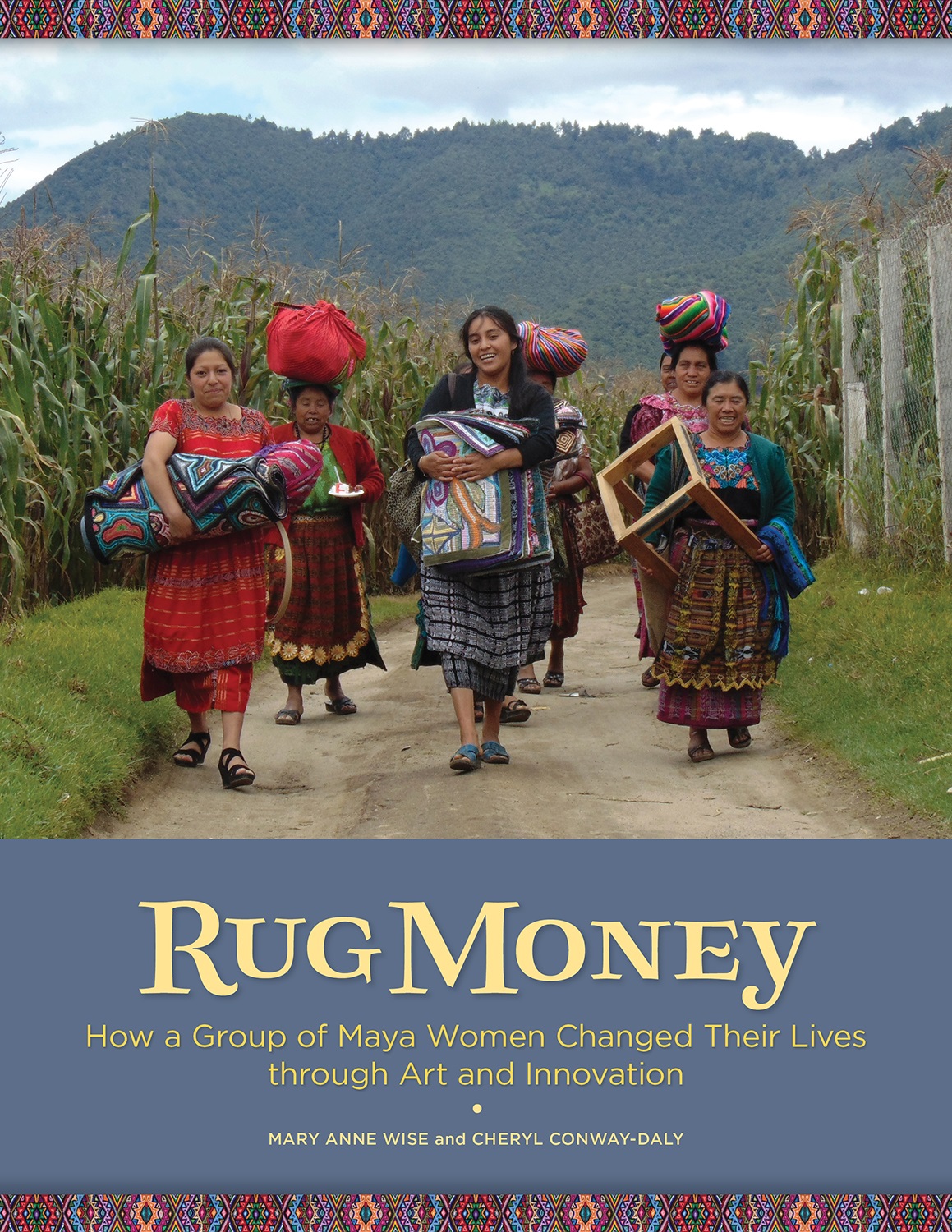 Rug Money: How a Group of Maya Women Changed Their Lives through Art and Innovation
Mary Anne Wise and Cheryl Conway-Daly
"By helping and respecting each other, we can all more forward together," says Glendy Muj, one of ten Maya artists introduced in this powerful story of courage, determination, and triumph. At the heart of Rug Money is the work of artist Mary Anne Wise and her committed team at Multicolores, the nonprofit rug-hooking cooperative they formed in Guatemala. Their commitment to women like Glendy and sixty other artists is a testament to the power of art to transform lives as well as to provide economic opportunity. The Multicolores story will inspire anyone who works with traditional artisans— or aspires to—as well as rug-hooking artists, teachers, and designers.
Thrums Books, September 2018. $29.95. Also available in eBook formats.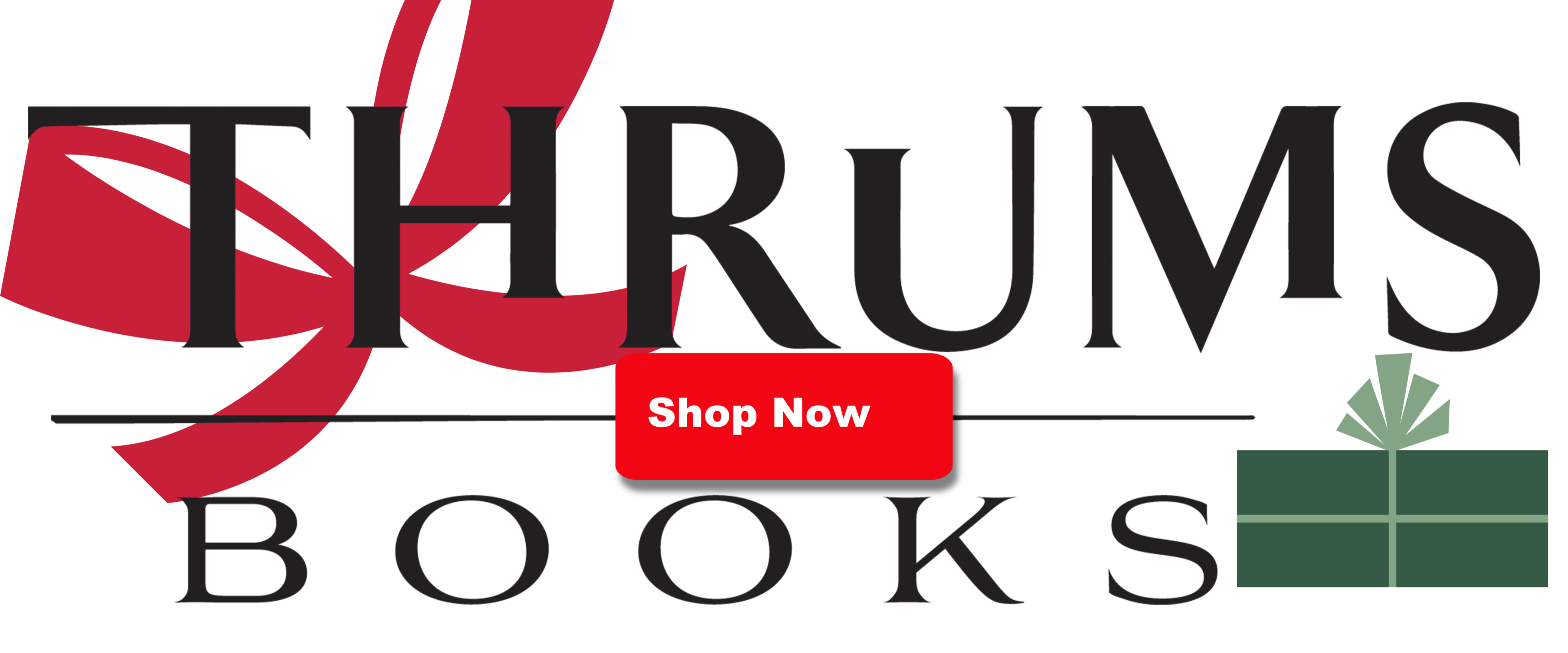 Save 20% with free shipping on all Thrums Books