ClothRoads Holiday Open Studio 2018
November 16, 2018

-

November 17, 2018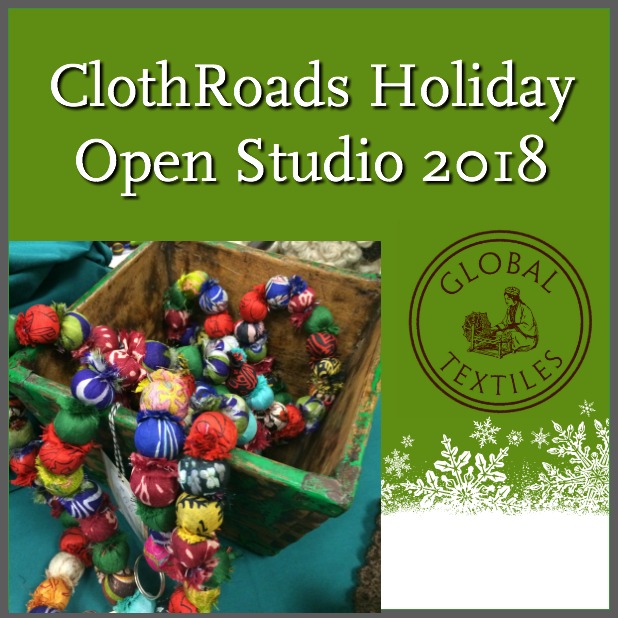 Join Us to Celebrate the Season 
Textiles, Stories, Thrums Books, Libations and Sweets. Let's catch up at our annual Holiday Open Studio!
ClothRoads is your gateway to a world of authentic textile culture.
From the rivers of India to the mountaintops of Peru, we go directly to the source to find textiles made by artisans using ancient natural dyeing methods, subtle and beautiful weaving techniques, spinning, printing, and much more.
When: November 16-17, 2018, 10 am – 5 pm
Where: ClothRoads Studio, 306 N. Washington Avenue, Loveland, Colorado
Hundreds of Artisan –Made Textiles including
Silk Scarves from India, Laos, Uzbekistan, Cashmere Scarves from Nepal, Scarves, shawls and bags from every continent on the globe, Felted silk and wool scarves from Nepal, Ikat from Laos, Uzbekistan, Indigo textiles from India, Indonesia, Laos and Peru, Jewelry from Morocco, Home Décor Textiles from Guatemala, India, Laos, Mexico, Peru, Philippines, Baskets from Guatemala, Maker supplies including buttons, natural-dyes, shibori blanks, Folkwear patterns, braids, trims, yarn, books, and dvds.
Many great gift ideas under $50.00
Can't make it? Shop online at  www.clothroads.com  or visit the studio Tuesday thru Friday, 10am – 3pm.
Products featured at ClothRoads.com support artisan-made women cooperatives dedicated to creating a sustainable environment for the artists and their families.
Information: 970-685-4964, info@clothroads.com