The Stories We Wear
September 25, 2021

-

June 12, 2022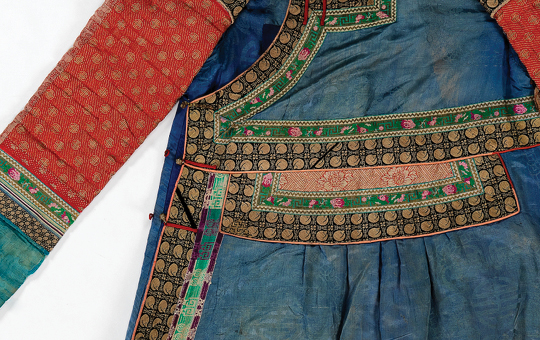 Showcasing 2,500 years of style and adornment through approximately 250 remarkable objects, The Stories We Wear reveals how clothing and accessories offer powerful expressions of identity—examining the purpose and meaning behind what we wear. Discover a spectacular array of attire, jewelry, uniforms, regalia, and tattoos. Explore common threads woven throughout stories that transcend language, culture, and time.
Associated with this exhibition is a webinar series, "Mayan Threads in Transition: The Stories They Tell." Learn more here.
Image: A Khalkha woman in Mongolia would have worn this garment after she married. The long, hoof-shaped sleeves protected her hands while traveling on horseback. Deel (Garment), Mongolia, Early 19th century CE, 2002-15-1.