Product Description
Spider Woman's Children: Navajo Weavers Today written by Lynda Teller Pete and Barbara Teller Ornelas illustrates the beautiful and complex world of contemporary Navajo life, art, and family—a world shaped by history and rich cultural traditions. It offers an intimate view into the life of today's Navajo weavers that will inspire and surprise. While many books have been written about Navajo weaving, techniques, and styles, none has highlighted the weavers themselves. The authors are fifth-generation Navajo weavers, lending an authentic and in-depth perspective to each story.
Over twenty profiles are included, throughout the book, representing weavers from ages sixteen to eighty-eight. Additional sections provide historical context as they relate to the weavers' lives, such as the Long Walk, forced attendance at boarding schools, loss of language, and the Livestock Reduction program. Also highlighted is the influence of trading posts on design evolution and collection trends.
Spider Woman's Children is a must-read for Navajo rug collectors, textile enthusiasts, weavers, and those with an interest in Navajo or Native American culture, history, and traditions.
Shipping Now!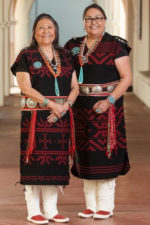 Lynda Teller Pete and Barbara Teller Ornelas are fifth-generation Navajo weavers who have been weaving since they were young girls. Their father, Sam Teller, worked at the famed Two Grey Hills Trading Post in New Mexico, where they were raised with their sister and two brothers. Internationally acclaimed for their fine tapestry weaving, their lives and their work have been featured in many publications and have been the subject of the Craft in Americatelevision program. Their weaving has been exhibited at galleries and museums throughout the world. Together, they teach Navajo weaving workshops at museums, galleries, and guilds, valuing the opportunity to serve as ambassadors for their Navajo culture and traditions. Image: (Left) Barbara Teller Ornelas (Right) Lynda Teller Pete, Photo by Joe Coca
Joe Coca grew up in the Sangre de Christo Mountains of southern Colorado. After graduating from Colorado State University, he studied photography at Art Center College of Design in Los Angeles. For the past thirty-five years he has maintained a studio in Fort Collins, Colorado, but his work has taken him to cities and rural areas of five continents. He has photographed people from all walks of life, industrial products and installations, architecture, food, and especially handcrafted textiles and other artisan goods. His photography has been featured in over fifty books, earning multiple awards.