Home Page › Resources › Global Textile Events
Global Textile Events
Your Monthly Calendar of World Textile Events
Crafts in America Center
California Visionaries: Seminal Studio Craft
March 2– May 4, 2019
Los Angeles, California
http://www.craftinamerica.org/exhibits/california-visionaries
Craft in America Center inaugurates its newly-designed gallery with a landmark exhibition of over 40 historic key works by many of the most influential and innovative Californian craft artists from the mid-twentieth century. This exhibition celebrates Californian visionary artists who shaped the future with a far-reaching commitment to expand craft, art and design, break barriers and forge new visions all their own. Spanning ceramics, metal, wood, fiber and glass, the objects in California Visionaries: Seminal Studio Craft, Featuring Works from the Forrest L. Merrill Collectionreflect the ingenuity and the birth of studio craft. Image: Kay Sekimachi, Nagare 1, 1967. Photo credit: Jay Oligny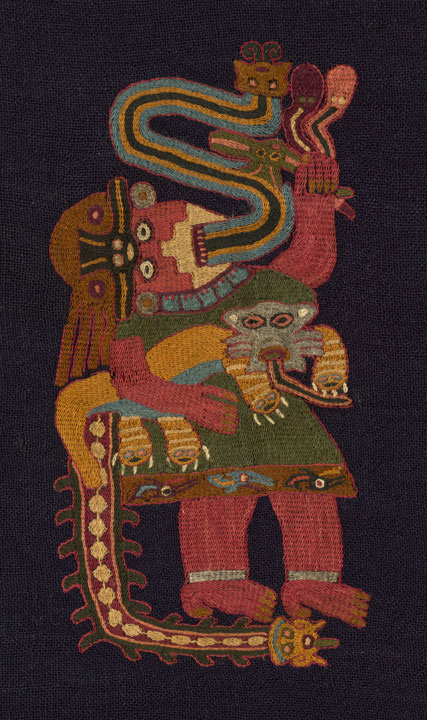 The Art Institute of Chicago
Gallery Talk: Super/Natural: Textiles of the Andes
March 14, 2019
Chicago, Illinois
https://www.artic.edu/events/4250/gallery-talk-super-natural-textiles-of-the-andes
Over the course of millennia, textiles were the primary form of aesthetic expression and communication for the diverse cultures that developed throughout the desert coasts and mountain highlands of the Andean region. A special gallery talk will inform you about this exhibition of over 60 textiles from the museum's collection that explore the ways various Andean cultures developed distinct textile technologies and approaches to design.  Image: Paracas; south coast, Peru; Mantle (Detail), 100 BC/AD 200; Wool (camelid), plain weave; embroidered in stem stitches; corners edged with weft-faced plain weave with extended ground weft fringe and embroidered in cross-knit loop stitches; 238.1 x 
International Quilt Study Center & Museum
Los Desconocidos / The Unknowns
March 15, 2019 – June 27, 2019
Lincoln, Nebraska
https://www.quiltstudy.org/exhibition/los-desconocidos/unknowns
Each year, many migrants perish in the region between Yuma, Arizona and New Mexico, as they try to cross from Mexico and Central America into southern Arizona. Some of their remains are unidentifiable, and these "unknowns"—los desconocidos—are commemorated, along with the others, in quilts that incorporate materials collected by humanitarians along established desert trails: blue jeans, bandanas, work shirts, and embroidered cloth. Founded by Jody Ipsen, the Migrant Quilt Project has documented the tragedy of migrant deaths since 2000 in fabric collages that blend the narrative, iconographic and typographic power of Mexican folk art, Abstract Expressionism, and Russian Constructivism. Image: Tucson Sector 2012-2013; Jennifer Eschedor, 2014; Tucson, AZ; 69 x 54 in; denim jeans, cotton fabric, milagros, ink, rope, paint, cotton embroidery thread, beads.
Fowler Museum at UCLA
Dressed with Distinction: Garments from Ottoman Syria
March 17 – September 15, 2019
Los Angeles, California
Dressed with Distinction: Garments from Ottoman Syria explores the region's textile production during the late 19th and early 20th centuries, when Syria was an international hub for the trade and production of handwoven cloth. With a focus on the social and seasonal contexts in which garments were worn by men, women, and children, the exhibition's presentation of these distinguished textiles enables audiences to engage with Syrian culture and weaving techniques from a bygone era. Image: "Mahomedan Women in Town Costume, Holy Land." Photographer unknown. Photomechanical print, ca. 1890–1900. Courtesy the Library of Congress.

University of Wisconsin, Madison, Ruth Davis Design Gallery
Applique to Zardozi: A Celebration Sampler
Thru April 14, 2019
Madison, Wisconsin
https://sohe.wisc.edu/research-development/centers-of-excellence/cdmc/design-gallery/2018-19/a-to-z/
Helen Louis Allen taught weaving, embroidery and the history of textiles for more than forty years at UW-Madison, starting in 1927. In her global travels she collected 4000 textiles that were bequeathed to the university in 1969 and are the basis of the Helen Louise Allen Textile Collection. Twenty-six international pieces were chosen to feature the breadth and depth of the collection.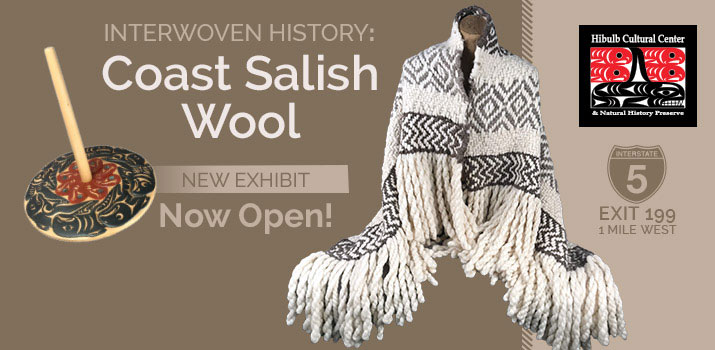 Hibulb Cultural Center & Natural History Preserve
Interwoven History: Coast Salish Wool
No closing date set
Tulalip, Washington
https://www.hibulbculturalcenter.org/Exhibits/Coast-Salish-Wool/
Since time-immemorial, Coast Salish people have relied on natural resources to create textiles that communicate status, wealth, and functionality. An almost lost tradition, wool weaving has endured a revitalization over the last decade. This exhibit explores the history of the extinct woolly dog and invites visitors to learn about the fundamentals of weaving, while exploring the materials, techniques, processing, and technology.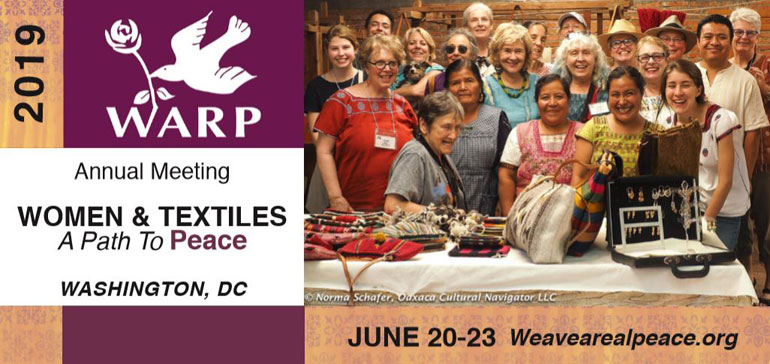 Georgetown University
Conference: Weave a Real Peace
June 20 – 23, 2019
Washington, D.C.
https://weavearealpeace.wildapricot.org/event-3186016
Registration for the 2019 Weave a Real Peace Annual Meeting is now underway. The theme and programming for this year's conference is "Women and Textiles: A Path to Peace".
Textile Tour Highlight
Sri Lanka: Emerald Island
February 9-23, 2020
https://www.exclusivejourneys.com/the-island-of-sri-lanka-february-2020-15-days/
Join Lesley Robin in Sri Lanka and discover this tiny island nation in the Indian Ocean situated southeast of India. A cultural melting pot, it is renowned for its ancient cities, Buddhist ruins and temples, with a wonderful and diverse landscape of mountains and forests, wildlife and exotic birds, as well as the rolling hills of tea plantations and small villages of the Central Highlands. Today there is a strong revival of handloom traditions and you will find beautiful contemporary fabrics inspired by the landscape, flora and fauna of this island. A treat awaits you as we visit artisans and communities at work in their homes and villages… earthenware and clay roof tiles, batik and stitchwork, weaving and dyeing. From lowland jungles and tropical coastlines to the misty heights of the Hill Country, come and experience the beauty of this emerald island abundant with superb photographic opportunities!

The Art Institute of Chicago
Super/Natural: Textiles of the Andes
February 23 – June 23, 2019
Chicago, Illinois
https://www.artic.edu/exhibitions/9122/super-natural-textiles-of-the-andes
Over the course of millennia, textiles were the primary form of aesthetic expression and communication for the diverse cultures that developed throughout the desert coasts and mountain highlands of the Andean region. Worn as garments, suspended on walls of temples and homes, and used in ritual settings, textiles functioned in multiple contexts, yet, within each culture, the techniques, motifs, and messages remained consisten
This exhibition features over 60 textiles along with a small selection of ceramics from the museum's collection that together explore the ways select Andean cultures developed distinct textile technologies and approaches to design. While emphasizing the unique aspects of each culture and highlighting Andean artistic diversity, the exhibition also invites comparisons across cultures and time periods. These objects speak to shared ideas concerning everyday life, the natural world, the supernatural realm, and the afterlife, demonstrating a unified visual language that spans the Andes region from its ancient past to modern communities.
(Top Image) Lambayeque; north coast, Peru; Patch, 1000/1476; Cotton and wool (camelid), slit tapestry weave; 17.8 x 15.2 cm (7 x 6 in.); The Art Institute of Chicago, Kate S. Buckingham Endowment; 1955.1750

Royal Museum of Art & History
VIIIth International Conference on Indigenous Textiles of the Americas
March 18­–22, 2019
Brussels, Belgium
http://www.kmkg-mrah.be/viiith-international-conference-indigenous-textiles-americas
This conference is being held in conjunction with the exhibit Inca Dress Code: Textiles and Adornment of the Andes which closes March 24, 2019. Topics include pre-Columbian textiles as well as historic and ethnographical textiles produced by the Andean nations.
Textile Museum of Oaxaca
Intervention: Indigo
Now thru March 31, 2019
Oaxaca, Mexico
https://www.museotextildeoaxaca.org/
Artist Laura Anderson Barbata worked in collaboration with The Brooklyn Jumbies, Chris Walker and Jarana Beat presenting, through music and character design, a reminder of the global resonance in the face of the crisis that affects the lives of people of African descent. Image: Oaxaca Textile Museo
Wisconsin Museum of Quilts & Fiber Arts
Native Fiber
Now thru­ April 28, 2019
Cedarburg, Wisconsin
https://www.wiquiltmuseum.com/current-exhibits/
Native Fiber brings together a breathtaking array of work by contemporary Native American fiber artists from throughout the Great Lakes region. Comprising work of thirty-one artists and one artist guild, representing twenty tribal nations, the exhibition features an expansive definition of fiber art, from quillwork to cordage, bead work, weaving, birch biting, leatherwork, and quilting. Repeating iconography and subjects run throughout, including symbols of healing, forgiveness, women's experiences, subjugation, and transformation. Together, the works attest to the diverse life and vitality of Indigenous fiber arts today. Image: Samantha Jacobs, Bee-utiful, 2018; brain-tanned deer hide, fox fur, silk velvet, glad beads, caribou fur, sinew; 12"x12"x12" each. Photo courtesy of Samantha Jacobs.
University of Wisconsin, Madison Lynn Mecklenburg Textile Gallery
One of A Kind, Ahead of Her Time: The Legacy of Helen Louise Allen
Madison, Wisconsin
January 27–April 18, 2019
https://sohe.wisc.edu/research-development/centers-of-excellence/cdmc/textile-collection/
Guest curated by Lynn K. Mecklenburg, the inaugural exhibition of the textile gallery showcases collection pieces representing the travels of Helen Louise Allen (1902-1968). One of A Kind Ahead of Her Timeinvites gallery goers to consider the woman, the collector, and the educator who looked at textiles as carriers of human culture, a thought that remains relevant in today's diverse and globalized world. Image: Helen Allen
Textile Research Centre (TRC)
Velvet! Now
thru June 27, 2019
Leiden, The Netherlands
https://www.trc-leiden.nl/index.php?option=com_content&view=article&id=757&Itemid=438&lang=en
Velvet is one of the most luxurious textiles that has been produced in Europe and elsewhere for at least one thousand years. Despite the fact (or perhaps because of it) that it is very expensive to make, in both time and raw materials, velvet became an essential item for any self-respecting royal court or church in Europe and is now made and used in many places throughout the world.
The Velvet! exhibition features over 100 garments and textiles, dating from the late fifteenth century to the present day. This feast for the senses features velvet samples of cotton, linen, mohair, silk and wool, velveteens, kuba velvets, children's garments and wedding dresses, plus a wide range of velvet hats. For a brief introduction to the subject of velvet, please click here. For the complete list of objects that are being displayed, with direct references to the TRC online catalogue, click here.  Image: No. 46. Part of a velvet 'crazy quilt' made from various types of velvet (1890's, USA; TRC 2018.2407).
Textile Tour Highlight
Andean Textile Arts Tour to the Cusco Highlands, Peru
October 21-November 1, 2019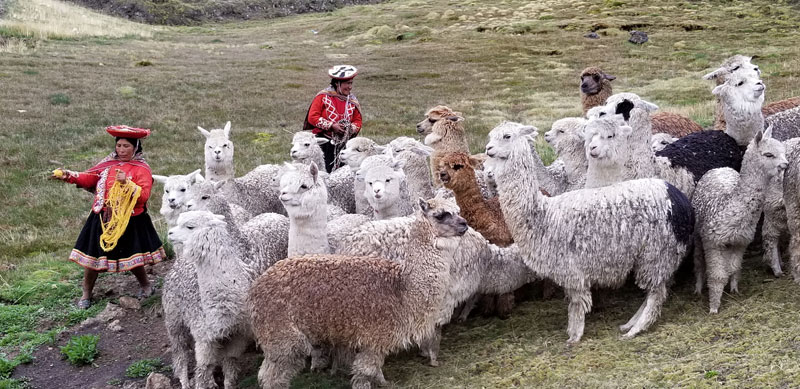 Join Andean Textile Arts for ten remarkable days visiting artisans in remote weaving villages plus stops at many of the greatest archeological sites of the Incan Empire, including two days at the citadel of Machu Picchu. Nilda Callañaupa, the founder and director of the Center for Traditional Textiles of Cusco, will accompany the tour to the weaving communities. The final day is spent in Lima, with a viewing of the Amano Museum's private collection of exquisite pre-Columbian textiles. Please contact Pam Art at pam.art@icloud.com for more information and to register. http://andeantextilearts.org/travel_tours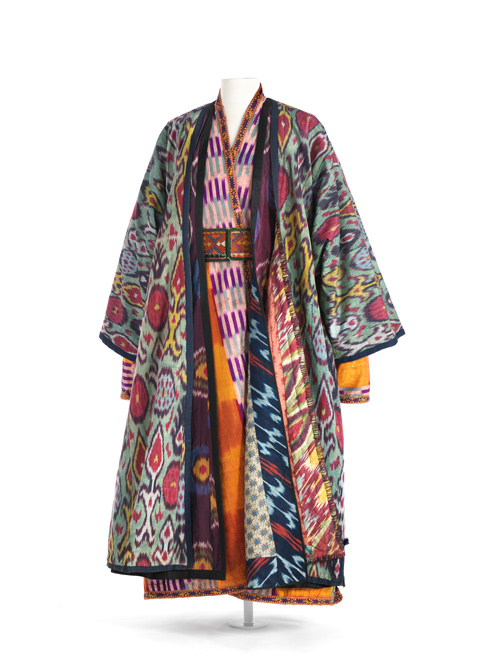 Los Angeles County Museum of Art
Power of Pattern: Central Asian Ikats from the David and Elizabeth Reisbord Collection
February 3 – July 28, 2019
http://www.lacma.org/art/exhibition/power-pattern-central-asian-ikats-david-and-elizabeth-reisbord-collection
Over sixty Central Asian ikat robes and wall hangings from the Silk Road area of Kazakhstan, Kyrgyzstan, Tajikistan, Turkmenistan, and Uzbekistan, are featured  in this exquisitely rich exhibit. It examines how the region's designers, dyers and weavers used improvisation and abstraction to create textiles unique to Central Asia.
For thousands of years, the Silk Road was the center for commerce—textiles being some of the most highly prized and traded, particularly the woven silk ikats. During the 19th and 20th centuries, ikat underwent a renaissance in Central Asia. Artisans from these oases towns experimented with motifs and colors traditionally found on decorative objects producing sophisticated and complex luxury fabrics for their patrons. Whether worn on the body or used to decorate the home, these textiles resonated against the Central Asian landscape.
Ruth Funk Center for Textile Arts
Designed to Mobilize: Propaganda Kimono 1920 – 1945
January 26 – May 4, 2019
Melbourne, Florida
http://textiles.fit.edu/current-exhibitions.php#.XCvft89KiCQ
This exhibition features over 75 historic textiles which focus on the iconography, motifs, and metaphors displayed in objects manufactured as propaganda during the World War II era – also known as the Asia-Pacific War (1931 – 1945). Produced within a nation primed to advance its cultural identity on the world stage, textiles provide an important lens for understanding the role of consumerism, coercion and fashion during a remarkable and controversial period of transition. Curated exclusively from the Center's permanent collection, this exhibition presents kimono and associated textiles from one of the most distinctive periods of textile production in Japanese history.
Asian Art Museum
Kimono Refashioned
Feb 8-May 5, 2019
San Francisco, California
http://infocus.asianart.org/kimonorefashioned/
In the early 1980s, Japanese avant-garde designers took Paris by storm, disrupting the world of haute couture with their minimalist, deconstructed clothing. But this was not the first time that Japanese design principles had transformed international fashion. Instead, as Kimono Refashioned reveals, kimono, its materials, forms, techniques and decorative motifs, has inspired designers for more than 150 years. Featuring over 35 garments from the Kyoto Costume Institute, this exhibit shows how the kimono continues to be a fertile source of ideas for contemporary designers.
International Quilt Study Center & Museum
Collecting and Recollecting: Contemporary Quilts in Western India
February 22–July 14, 2019
Lincoln, Nebraska
https://www.quiltstudy.org/exhibition/collecting-and-recollecting-contemporary-quilts-western-india
People make quilts throughout India. These diverse, beautiful textiles represent a wide range of geographical, ethnic, and social groups, and help tell the stories of their individual makers. Drawing from intensive field work and interviews, this exhibition introduces a group of quiltmakers from villages scattered across the western Indian states of Gujarat and Maharashtra. Their stories afford insight into the quilts themselves, and both objects and text help viewers appreciate the lives of women in this part of the world.
Iwatate Folk Textile Museum
Kilims: Rugs for Daily Use in the Villages of Afghanistan
Open thru March 16, 2019
Tokyo, Japan
Many caravans came and went on the Silk Road and diverse nomadic tribes moved expecting grassy plains. Starting in 1977, Iwatate Hiroko traveled Afghanistan for seven years, collecting flat-woven kilims, salt bags, tent bands, embroidered clothing and felt coats. These necessities of nomadic life are on special exhibit.
The Israeli Museum
Fashion Statements: Decoding Israeli Dress
June 14, 2018–April 6, 2019
Jerusalem, Israel
https://www.imj.org.il/en/exhibitions/fashion-statements
Based on pioneering research, Fashion Statements surveys a century of dress in Israel. The exhibition explores the late 19th-century indigenous pre-Zionist "fashion," the opposing forces of Europeanism and Orientalism that converged in the early decades of the state, and, finally, the place that Israeli creativity holds on the global fashion scene today. Through a sumptuous display of clothing, fashion sketches, films, and fashion photography, this large-scale exhibition illustrates the broad scope of fashion in Israel, from its deepest historical roots to contemporary collections, fostering a dialogue about tradition and modernity, myth and reality, and conflicting ideologies.
From Kente to Kuba: Stitched Textiles from West and Central Africa
December 7, 2018—May 12, 2019
Lincoln, Nebraska
In Africa, fabric is useful, valuable, and symbolic. It speaks to identity, group affiliation, and prestige. It is colorful, patterned, and visible everywhere: at community gatherings, in the marketplace, and in the home. The ubiquity of fabric means that few forms of material culture can compete with it for status.
This exhibit encompasses an array of stitched textile techniques such as patchwork, appliqué, and quilting as well as woven and printed ones. Kente cloth from Ghana is made by sewing long, woven strips together to create large fabrics for garments. Kuba cloth from the Democratic Republic of the Congo is a ceremonial raffia fabric constructed using a number of techniques, including patchwork and appliqué. Masquerade costumes from Nigeria feature plentiful stitchwork, and enable villagers to "transform" into spirits during rituals and festivals. Today, entrepreneurial artists have created hybrid styles, such as Nigerian tourist items that combine the American quilt format with traditionally dyed fabrics.
Museo Estatal Arte Popular de Oaxaca
Roses & Revelations Homage to the Virgin of Guadalupe by Mexican Textile Artists
December 9—March 9, 2019
San Bartolo Coyotepec, Oaxaca, Mexico
https://www.oaxacaevents.com/12/11/2018/roses-revelations-rosas-y-revelaciones/
"Roses & Revelations," featuring the work of textile artists from 52 communities representing eight different Mexican states, uses the nation's patroness Our Lady of Guadalupe as a template to interweave textile art with the religious sensibilities of the Mexican people.

Queen Sirikit Museum of Textiles
A Royal Treasure: The Javanese Batik Collection of King Chulalongkorn of Siam
November 1, 2018—May 2021
Bangkok, Thailand
This exhibition is dedicated to showcasing this collection and telling the story of His Majesty King Chulalongkorn's three trips to Java and his fascination with batik. It presents exceptional examples of batik from His Majesty's collection which have never been publicly displayed.
Museo Textil de Oaxaca
Coyuchi and White: Cotton Flowers
November 18, 2018–March 31, 2019
Oaxaca, Mexico
https://www.museotextildeoaxaca.org/
Cotton fiber has sheltered different cultures around the world. This exhibit focuses on the emblematic pieces from the Oaxaca Textile Museum collection encompassing white cotton and coyuchi, its brown color varian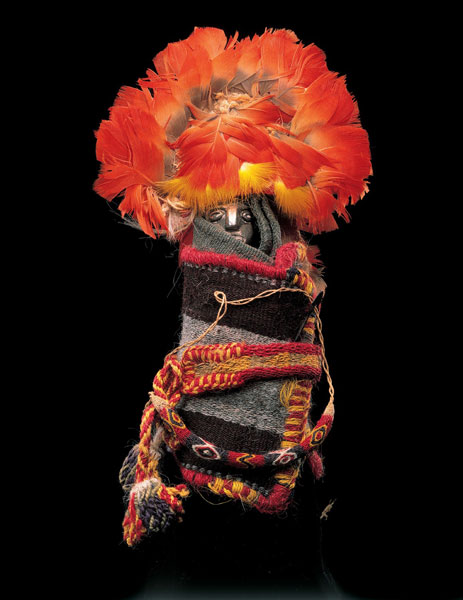 The Royal Museum of Art & Histo
Inca Dress Code: Textiles and Adornment of the Andes
November 23, 2018-March 24, 2019
Textiles were particularly valued among the Andean cultures of Peru, Bolivia. and Chile, as they were considered an extremely precious commodity: they were not only items for wearing, but also symbols of power and identity and could be used as offerings or as a currency of exchange.
This exhibition offers the opportunity to admire the magnificence of the textiles, the quality of the precious metalwork and the beauty of pre-Colombian feather work from the Royal Museum of Art and History's collection. Image: The Royal Museum of Art & History© Coll. Janssen-Arts, Vlaamse Gemeenschap (MAS), photo H.

Amuse Museum
Boro Real Astonishment
March 30, 2018-March 31, 2019
This exhibit features the collection of Chuzaburo Tanaka who, virtually alone in all of Tohoku, Japan, walked the farming and fishing villages of Aomori from the mid-1960s, searching out these traces of the local love of fabric known as boro. With this exhibition, boros are hung among the thirty-four photo images newly published by Kyoichi Tsuzuki (the photographer and author of "BORO Rags and Tatters) bringing one big installation to the museum.

Minneapolis Institute of Art
Emblems of a Prosperous Life: Women's Robes of Late Imperial China (1700s – 1800s)
July 14, 2018–June 30, 2019
Minneapolis, Minnesota  Learn More
In the 1700s and 1800s, aristocratic Chinese women wore sumptuous clothing in and out of court. At court, women's attire was highly standardized; outside court, they had greater flexibility to choose styles and designs that matched their personal taste. Many of these garments exemplify a fashion trend of the 1800s: cuffs and hems embellished with embroidered bands, which in turn were often edged with strips of brocaded ribbon. Image: Woman's unofficial robe, late 19th century , China, Qing dynasty (1644–1911). Silk, metallic threads. Bequest of Margaret McMillan Weber in memory of her mother, Katherine Kittridge McMillan RBL51.423
Textile Tour Highlight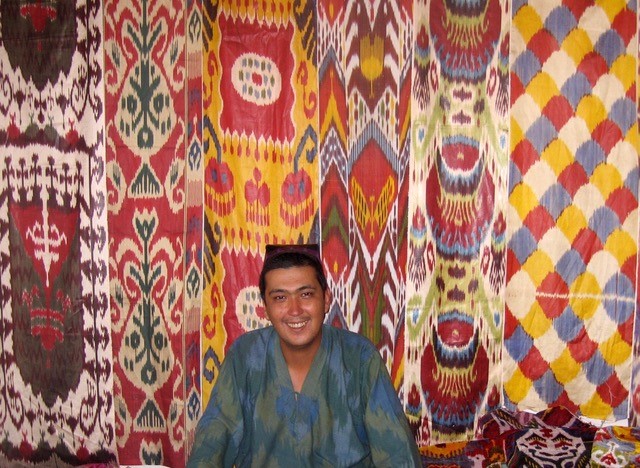 THE OASES KINGDOMS AND BEYOND
Textiles, Architecture, and Traditions of Uzbekistan
May 5-19, 2019
This tour commences in Tashkent with visits to the Museum of Applied Arts, Khast Imam Mosque complex, Chorsu Bazaar and the workshops of artisans and designers. Continue to the Fergana Valley to witness all aspects of ikat weaving (from the feeding of silk worms to silk spinning, binding and dyeing), felt making and the extraordinary Rishtan ceramics workshop.
The tour includes visits to other ateliers of artists and designers, bazaars and the legendary cities of Samarkand, Bukhara and Khiva, where local scholars will share the history and culture of the regions, and families will invite the group to join in private meals.
This Uzbekistan journey is arranged and guided by Christine Martens and Raisa Gareeva. Martens began researching the textile and traditions of Uzbekistan in 2001 and yearly trips continued in the Central Asian republics, Mongolia, and Xinjiang. Ms. Gareeva was the Central Asian foreign expert for Aid to Artisans in Uzbekistan, guiding artisans in the revival of traditions and honing of skills which had been forgotten during the Soviet era.
For a full itinerary and to reserve your place, please contact: christinelillianmartens@gmail.com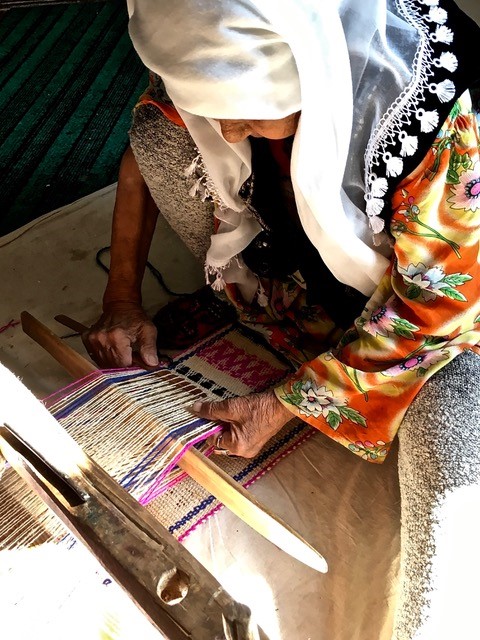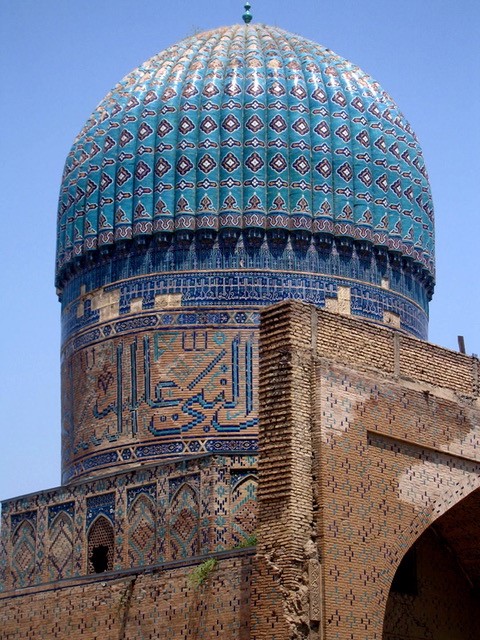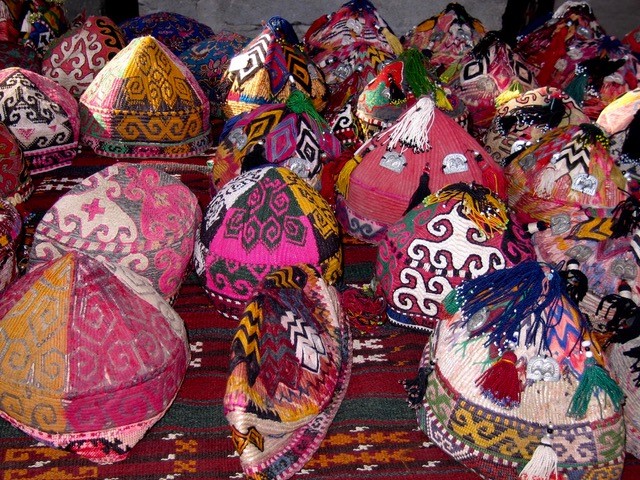 Textile Tour Highlight
Silk Study Tour to Japan
Who goes on the Silk Study Tour to Japan?  Artists, makers, educators, life-long learners, writers, textilians, historians, Japanophiles, and those wanting to learn more deeply about silk and Japan. In this sixth excursion of the Silk Study Tour, the focus remains to foster a continuous thread of communication and education with Japanese silk masters, educators, and artisans that will lead each traveler into a new fiber future. It offers future exchanges of silk information and provides teaching and marketing opportunities on both sides.See traditional Japanese sericulture practices on a farm, visit indigo dyers, and try your hand at katazome.
Contact Glennis Dolce at silkstudytour@shiborigirlstudios.com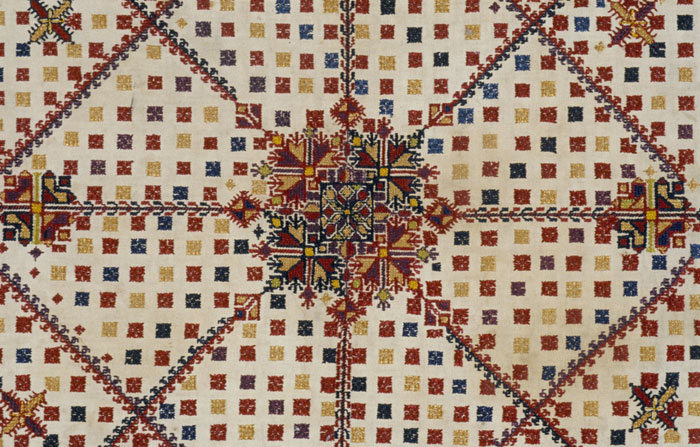 The Whitworth, University of Manchester
Four Corners of One Cloth: Textiles from the Islamic World
June 23, 2018-June 2019
Manchester, England  Learn More
Cloth was, and continues to be, a unifier across the Islamic world. Four Corners of One Cloth: Textiles from the Islamic World showcases textiles from the Whitworth's collection, selected from across cultures and countries.The title refers to the Prophet Muhammad bringing together four leaders who all wanted to raise the sacred Black Stone from the ground up to the Ka'ba in Mecca. They placed the stone in the center of a cloth so that each could take a corner and lift together.
At the heart of this exhibition is a nearly 100-year-old fragment of kiswa cloth. The kiswa covers the Ka'ba and is replaced annually during Hajj (pilgrimage to Mecca); each year sections are cut and distributed across the world. While this is a textile of religious significance, other are textiles offering protection–a Dervish hat stitched with a poem to recite, a Malian hat that is said to contain passages of the Qur'an and a talismanic shirt with a magic formula of letters and numbers.
Beyond the textiles used in ceremonial ways are ones of everyday use. Socks, rugs, bedding and tablecloths are included, as are pieces by designers William Morris, Thomas Wardle and Lucienne Day, clearly inspired by Islamic culture.
Top Image: Cushion cover, n.d.hand embroidery, Morocco The Whitworth, The University of Manchester

Bristol Museum & Art Gallery
Fabric Africa: Stories Told Through Textiles
June 30, 2018-May 19, 2019
Fabric Africa is a stunning snapshot of the diversity of modern and historic textiles from across the continent of Africa. The selection of textiles and clothing dates from the late 1800's to the present day and come from Nigeria, Ghana, Kenya, South Africa, Sudan, Mali and Swaziland amongst others. From mud cloth to adinkra, barkcloth dresses to kanga cotton prints, 'royal' kente cloth to huge embroidered agbadas, this exhibition gives a taste of the amazing ingenuity of the textile artists of Africa and explores the importance of cloth in social and political lives of those who wear them.
Newark Museum
Dramatic Threads: Textiles of Asia
March 14, 2018–February 2019
Featuring theatrical and political costumes as well as architectural and decorative textiles from diverse areas of Asia this exhibition showcases works that display a wide range of techniques. From different embroidery stitches to woven textiles ranging from virtuoso brocades and slit-tapestry to twill and plain weaves and made of  gold, silk, wool, cotton, an array of textiles illustrate cultural preferences and regional differences of China, Japan, Korea, Nepal and Tibet.
Victoria and Albert Museum
Fashioned from Nature
April 21–January 27, 2019
This exhibition will present fashionable dress alongside natural history specimens, innovative new fabrics, and dyeing processes, inviting visitors to think about the materials of fashion and the sources of their clothes. Image: Rose-patterned silk train (detail). Circa 1890s. ©Victoria and Albert Museum.

Museum of Fine Arts
Collecting Stories: Native American Art
April 14, 2018–March 10, 2019
Boston, Massachusetts  Learn More
The exhibition focuses on objects collected in the formative years of building the early holdings of Native American art at the Museum of Fine Arts. Highlights include an early Navajo blanket, a pair of important Eastern Woodlands moccasins, and a Plains headpiece, made of deer and porcupine hair.
SaveSave