Your Monthly Calendar of World Textile Events
This Month's Featured Event
Home Page › Resources › Global Textile Events
Global Textile Events
Your Monthly Calendar of World Textile Events

Fine Arts Museums of San Francisco: de Young Museum
Contemporary Muslim Fashions
September 22, 2018 – January 6, 2019
San Francisco, California  Learn More
Contemporary Muslim Fashions is the first major museum exhibition to explore the complex and diverse nature of Muslim dress codes worldwide. This pioneering exhibition examines how Muslim women—those who cover and those who do not—have become arbiters of style within and beyond their communities and, in so doing, have drawn attention to the variations and nuances of their daily lives.
Spotlighting places, garments, and styles from around the world, the exhibition focuses on clothing that responds to individual and collective interpretations of modesty. It considers how Muslim women define themselves and are defined by their dress, providing a snapshot of the current moment in Muslim modest fashion. As Islam is a multicultural faith, the dress of its practitioners is shaped not only by religious traditions but also by local customs and global trends. Contemporary Muslim Fashions takes a look at parts of the globe where designers are creating and consumers are wearing highly fashionable garments, with a specific focus on the Middle East, Southeast Asia, and diasporic communities throughout Europe and the United States.
In addition to approximately 80 ensembles drawn from established and emerging designers in high-end fashion, streetwear, sportswear, and couture, the exhibition includes about 40 photographs that will contextualize the garments on view. Using social media as primary source material, Contemporary Muslim Fashions credits much of the recent, popular awareness of this sector to bloggers and influencers who took to social media when they could not find accurate representations of themselves in traditional media.

Ruth Funk Center for Textile Art
Wandering Spirit: African Wax Prints
September 1 – December 15, 2018
Wandering Spirit traces the developmental pathway of the African wax print and tells how these fabrics reflect the stories, dreams, and personalities of the people who wear them. It is a tribute to the century-old handmade designs and patterns on textiles that originated in Indonesia, were copied and industrialized by Europeans, then exported to Africa where they became ingrained in African culture and society.

Avenir Museum Gallery, Colorado State University
Cloth as Community: Hmong Textiles in America
September 10–December 21, 2018
Fort Collins, Colorado  Learn More
The Hmong are people indigenous to the mountain regions of Southeast Asia, many of whom are now dispersed throughout the world by the disruption of war and refugee experience. This traveling exhibition charts the evolution of the rich Hmong textile culture, from geometric ornamental cloth forms to embroidered story cloths, and the blending of traditional motifs with representations of new lives and the creation of community in America. Image: May Her Thao, Large Aqua Cross Stitch. Cotton, 43" x 43", 1985.

Slow Fiber Studio
Revival and Innovation: Textile Traditions of Mexico and Asia
September 14-16, 2018
Berkeley, California  Learn More
Revival and Innovation: Textile Traditions of Mexico and Asia will follow threads of Central and South American cultural heritage, weaving between the ancient and the contemporary, tradition and innovation, exploring relationships between materials and techniques, ancient textiles and modern-day practices. Participants will investigate a range of topics through lectures, workshops, demonstrations, conversations, and examining actual textiles.  Image: Jim Bassler, Patas de Pata, weaving; The Textile Museum of Oaxaca, Oaxaca, Mexico.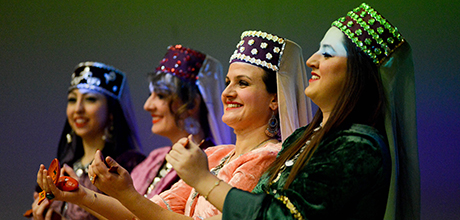 The Textile Museum, George Washington University
Celebration of Textiles: Turkey
September 15, 2018
The museum's 39th-annual family festival celebrates the textile arts and cultures of Turkey. Watch local artists weave, spin, embroider, and more; enjoy traditional dance performances; and explore spectacular rugs woven by nomadic women through family-friendly tours of A Nomad's Art: Kilims of Anatolia.
The Met Fifth Avenue
Armenia!
September 22, 2018 – January 13, 2019
This is the first major exhibition to explore the remarkable artistic and cultural achievements of the Armenian people in a global context over fourteen centuries. Through some 140 objects—including opulent gilded reliquaries, richly illuminated manuscripts, rare textiles, cross stones (khachkars), precious liturgical furnishings, church models, and printed books—the exhibition demonstrates how Armenians developed a unique Christian identity that linked their widespread communities over the years. Image: Cape. First half 17thcentury; silk, cotton, metal wrapped thread; cut and voided velvet, brocaded, embroidered, with engraved metal fittings.

Laboratory for Experimental Archaeology of the Römisch-Germanisches Zentralmuseu
Conference: European Textile Forum 2018
November 5-11, 2018
The focus of this year's forum is on "Aspects of Weaving and Braiding: tools, techniques, processes, finishes". From the simplest plain weave to the most complex patterned fabrics with several warps and wefts, weaving itself is also a wide and complex topic. Braiding, just like weaving, can take on different forms and range from very simple plain-weave analogies to complex patterned and multi-person braids; braiding tools can be just the hands or massive braiding stands. Whether you would like to talk about different loom types and their usage, how complex patterns were derived and woven or braided in historical times, how different materials will influence a weave, how to reconstruct possible braiding techniques for a given piece, or the difficulties of replicating a given fabric – all aspects are welcome.
Image: Tablet weaving Autumn Gold, braid woven by Nigdziekolwick.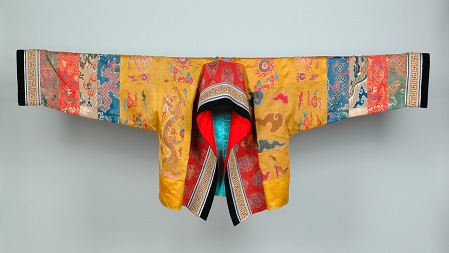 Leeds Museums & Galleries: Lotherton
Himalayan Fashion: High Altitude, High Fashion
March 23 – October 26, 2018
Discover sumptuous silk brocades, geometric dhaka cotton weaves, fine Kashmir wool shawls and whole rainbows of printed prayer flags in this colorful exhibition of Himalayan fashion and textiles, all in a unique country house setting. See the whole range of fashion, from costly court outfits and high-end designer dresses to everyday clothing worn by everyone from Buddhist monks to Gurkhas.
Textile Tour Highlight
Silk Study Tour to Japan
Who goes on the Silk Study Tour to Japan?  Artists, makers, educators, life-long learners, writers, textilians, historians, Japanophiles, and those wanting to learn more deeply about silk and Japan. In this sixth excursion of the Silk Study Tour, the focus remains to foster a continuous thread of communication and education with Japanese silk masters, educators, and artisans that will lead each traveler into a new fiber future. It offers future exchanges of silk information and provides teaching and marketing opportunities on both sides.See traditional Japanese sericulture practices on a farm, visit indigo dyers, and try your hand at katazome.
Contact Glennis Dolce at silkstudytour@shiborigirlstudios.com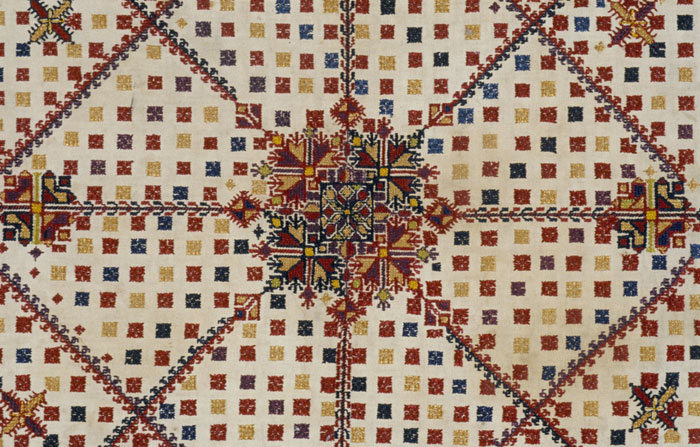 The Whitworth, University of Manchester
Four Corners of One Cloth: Textiles from the Islamic World
June 23, 2018-June 2019
Manchester, England  Learn More
Cloth was, and continues to be, a unifier across the Islamic world. Four Corners of One Cloth: Textiles from the Islamic World showcases textiles from the Whitworth's collection, selected from across cultures and countries.The title refers to the Prophet Muhammad bringing together four leaders who all wanted to raise the sacred Black Stone from the ground up to the Ka'ba in Mecca. They placed the stone in the center of a cloth so that each could take a corner and lift together.
At the heart of this exhibition is a nearly 100-year-old fragment of kiswa cloth. The kiswa covers the Ka'ba and is replaced annually during Hajj (pilgrimage to Mecca); each year sections are cut and distributed across the world. While this is a textile of religious significance, other are textiles offering protection–a Dervish hat stitched with a poem to recite, a Malian hat that is said to contain passages of the Qur'an and a talismanic shirt with a magic formula of letters and numbers.
Beyond the textiles used in ceremonial ways are ones of everyday use. Socks, rugs, bedding and tablecloths are included, as are pieces by designers William Morris, Thomas Wardle and Lucienne Day, clearly inspired by Islamic culture.
Top Image: Cushion cover, n.d.hand embroidery, Morocco The Whitworth, The University of Manchester

Bristol Museum & Art Gallery
Fabric Africa: Stories Told Through Textiles
June 30, 2018-May 19, 2019
Fabric Africa is a stunning snapshot of the diversity of modern and historic textiles from across the continent of Africa. The selection of textiles and clothing dates from the late 1800's to the present day and come from Nigeria, Ghana, Kenya, South Africa, Sudan, Mali and Swaziland amongst others. From mud cloth to adinkra, barkcloth dresses to kanga cotton prints, 'royal' kente cloth to huge embroidered agbadas, this exhibition gives a taste of the amazing ingenuity of the textile artists of Africa and explores the importance of cloth in social and political lives of those who wear them.

Centro Cultural Tijuana
American Quilts
August 17-November 4, 2018
An exhibition of 50 American quilts from the San Diego Mingei's permanent collection will be on view at CECUT (Centro Cultural Tijuana). Dating from roughly 1850 to the mid-twentieth century, these vibrant bed covers were hand- and machine-stitched in many parts of the United States. Featured will be a variety of geometric and colorful patterns including Schoolhouse, Shoo Fly, Rocky Road to Kansas and Log Cabin variations, in addition to embroidered and appliqued examples. Image: Hexagonal Quilt (detail), 1880s, U.S.A.

The Textile Museum George Washington University
A Nomad's Art: Kilims of Anatolia
September 1-December 23, 2018
Woven by women to adorn tents and camel caravans, kilims are enduring records of life in Turkey's nomadic communities, as well as stunning examples of abstract art. This exhibition marks the public debut of treasures from the museum's Murad Megalli collection of Anatolian kilims dating to the eighteenth and nineteenth centuries. Image: Kilim (detail), Turkey, central Anatolia, late 18th century. The Textile Museum 2013.2.1. The Megalli Collection.

Maiwa School of Textiles
Lecture: The Silk Route
September 25, 2018
Vancouver, B.C. Canada  Learn More
It was in China that mulberry silk was first reeled and woven into fabulous brocades becoming one of its most important export goods, valuable both for trade and diplomatic interchange. Eventually the secret of raising the silk moth traveled to Central Asia, Persia, and Byzantium. Culturally distinct silk textiles flourished in all these places and beyond. Join inveterate textile collector, traveler, and author John Gillow as he retraces the paths over land and across the sea (collectively known as the Silk Route) whereby silk was brought to the West.

Honolulu Museum of Art
The Ripple Effect
May 3, 2018-September 30, 2018
This exhibition is part of the museum's observance of the 150th anniversary of the arrival of Japanese–gannemono (first-year-folks)—in Hawai'i. As an island nation surrounded by the sea, Japan reveres water. In this exhibition of luxurious kimono, garments, and textile fragments, water is more than a graphic element—many motifs are named, linking them to cultural values charged with hidden meanings. Woven, dyed and embroidered renderings include large powerful crested waves, koi swimming upstream, and swirls of water named after the Kanze family of Noh actors, which are a conventional treatment of flowing water. Concentric circles form arches that resemble overlapping waves, known as seigaihasignifying auspicious surges of good luck, are preserved on an 18th-century fragment and echoed in a 20th-century kimono.  Image: Woman's Kimono (left). Japan, Second Quarter 20th Century; silk, crepe weave, stencil-printed warp and hand-tie-dyed weft kasuri (ikat) Woman's Kimono (right).Japan, Second Quarter 20th Century;  silk, plain weave, stencil-printed warp and hand-tie-dyed weft kasuri (ikat)
Textile Tour Highlight
Expoartesanias Colombia, Bogata & Cartegena
December 4-11, 2018
This special travel program is designed around the singular Expoartesanias Colombia, the largest and most important gathering and showcase of Colombia's artisans and their art. The Expoartesanias handcraft fair is entering its 28th year and features the finest in Colombia's diverse traditional and contemporary craft from the entire country. This tour offers an insider opportunity to meet the artisans and learn about their culture including the Wayuu, Aruaco, Zenu, Waunaan, Amazona people. Taking place in Bogota, we'll enjoy getting to know highlights of Bogota, such as the Gold Museum, Botero Museum and other City Highlights. From Bogota, the tour moves to Cartagena on the Caribbean coast, where cumbia, salsa, vallenato and other rhythms flow into the night!
An important aspect of this Colombia tour is to spend time with the lawyer who is leading the initiative of DO, Denominacion de Origen, legally protecting the cultural heritage/material culture of Colombia. Learn about the initiative; its origins, purpose, methodology, outcomes and results.
For details and reservation information, visit Tia Stephanie Tours.
The International Quilt Study Center & Museum, University of Nebraska
War and Pieced: The Annette Gero Collection of Quilts from Military Fabrics
May 25 – September 16, 2018
The quilts in this exhibition are drawn primarily from the extraordinary collection of quilt historian and London Royal Society for Arts fellow, Dr. Annette Gero. She has assembled this collection over a period of more than thirty years from fewer than one hundred known examples. Quilt is used as a term of convenience to refer to these textiles that are not quilted, have no batting, and are almost never backed. Many were intended to be wall hung, or they were used as table covers rather than as bedcovers; others functioned as portable game boards. The end use was less critical than the act of creation itself either during a campaign or upon return to the safe harbor of home. The quilts date to the Napoleonic and Crimean Wars and also the British colonies, made by soldiers, sailors, or military tailors in Europe or India.
Dr. Gero writes this about assembling the exhibition: "These extraordinary textiles, all made by men, demonstrate that some beauty can come out of the horrors of war. The emotions and the pleasures provided by these pieces—in particular, the intarsias, which tell stories of kings and other brave men—have meant that they have survived and been treasured for three hundred years by subsequent generations. We may not know for what purpose they were used or even why they were made, but they are still exemplary works of great beauty. Although the quilts are all somehow related to war, to me, they are about passion. The makers thought about their children and loved ones at home, the celebration of kings and victories, and most importantly, the feeling of hope through centuries of wars." Image (top) Prussian Army Intarsia Quilt. Wool from military uniforms, with embroidery thread; hand-appliquéd and hand-embroidered. Dated 1806. All photos courtesy of the International Quilt Study Center & Museum University of Nebraska-Lincoln.

Art Institute of Chicago
Music and Movement: Rhythm in Textile Design
May 18–October 28, 2018
Featuring a selection of 17th- through 20th-century works made in countries including Brazil, Finland, France, Japan, and the United States, the exhibition highlights the global nature of the Art Institute's collection and invites visitors to consider how rhythm informs textile design.  Image: Bessie's Blues from the series American Collection Number 5, 1997 by Faith Ringgold. The Art Institute of Chicago. Robert Allerton Endowment.

Brooklyn Museum
Cecilia Vicuña: Disappeared Quipu
May 18–November 25, 2018
An exhibition that pairs ancient Andean quipus from the Brooklyn Museum's collection with a newly commissioned installation by artist Cecilia Vicuña. These quipus of the past and present explore the nature of language and memory and art.
Newark Museum
Dramatic Threads: Textiles of Asia
March 14, 2018–February 2019
Featuring theatrical and political costumes as well as architectural and decorative textiles from diverse areas of Asia this exhibition showcases works that display a wide range of techniques. From different embroidery stitches to woven textiles ranging from virtuoso brocades and slit-tapestry to twill and plain weaves and made of  gold, silk, wool, cotton, an array of textiles illustrate cultural preferences and regional differences of China, Japan, Korea, Nepal and Tibet.
Lacis Museum of Lace and Textiles
The Boteh of Kashmir and Paisley
June 29, 2018–February 2, 2019
Berkeley, California  Learn More
An expansive display of Kashmir and Paisley fabric and designs representing several nations and spanning several centuries.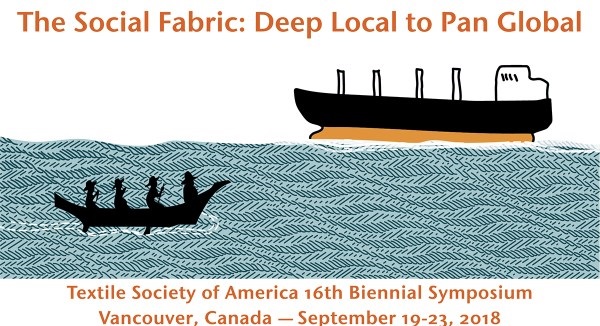 Textile Society of America 16thBiennual Symposium
The Social Fabric: Deep Local to Pan Global
September 19–23, 2018
Registration is underway for this biennual event of scholarly interchange, keynote speakers, concurrent sessions, and exhibitions. Plus there is a series of pre- and post-conference workshops and study tours.

ULITA, Archive of International Textiles
Resists: Exploring Resist-dyed Textiles across Cultures
April 25–December 13, 2018
The exhibition presents examples of the principal resist-dyeing techniques, including batik, ikat, resist block printing, stencils, tie-dye, and other stitched techniques and will feature of samples of ajrakh, English Wax, katagami, and shibori. The exhibition particularly showcases two recent collections to come to ULITA: the Coleman Indonesian Collection and the West African O'Hear Collection.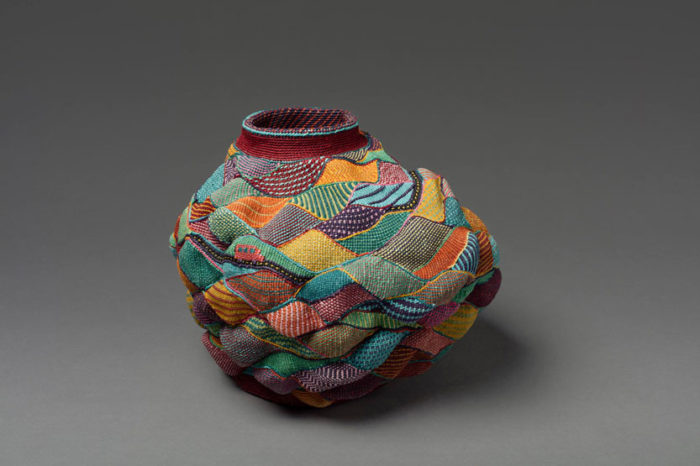 Houston Center for Contemporary Craft
Rooted, Revived, Reinvented: Basketry in America
June 2–September 2, 2018
An exhibition chronicling the history of American basketry, from its origins in Native American, immigrant, and slave communities to its presence within the contemporary fine-art world. Image: Lois Russell, "Magic Bus," 2012. Waxed linen. Courtesy of the Houston Center for Contemporary Craft.

Textile Tour Highlight
Textiles of Lao
January 16-31, 2019
Join Valerie Kirk, senior lecturer and head of textiles at Australian National University, on a journey from the cultural center of Chiang Mai in Northern Thailand, across the Mekong into the beautiful country of Laos, the home for many minority people who still produce and wear colorful fabrics using generation's old techniques. You'll meet local artisans as well as internationally acclaimed practitioners. Plus workshops will provide hands-on experience, and of course galleries, shops and village markets provide opportunities for collectors.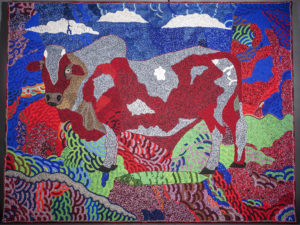 National Czech & Slovak Museum & Library
Ubuhle Women: Beadwork and the Art of Independence
May 12–September 17, 2018
This exhibition showcases a form of bead art, ndwangos, developed by a community of women living and working together in rural KwaZulu-Natal, South Africa. The artisans embellish Czech glass beads over black fabric. The Ubuhle community was established to create employment for rural women.
China National Silk Museum
A World of Looms: Weaving Technology and Textile Arts in China and Beyond
May 30––September 15, 2018
This is the first exhibition in China to present the rich cultural heritage of looms and weaving technologies from around the world. It celebrates the marches of textile innovations in not only China, but also in a broader context of textile traditions over vast geographical areas.

Art Institute of Chicago
Music and Movement: Rhythm in Textile Design
May 18–October 21, 2018
Featuring a selection of 17th- through 20th-century works made in countries including Brazil, Finland, France, Japan, and the United States, the exhibition highlights the global nature of the Art Institute's collection and invites visitors to consider how rhythm informs textile design. Image: Furoshiki (Wrapping Cloth), early Shôwa period (1926–89), 1926/35. Japan. Photo courtesy of the Art Institute of Chicago.
Victoria and Albert Museum
Fashioned from Nature
April 21–January 27, 2019
This exhibition will present fashionable dress alongside natural history specimens, innovative new fabrics, and dyeing processes, inviting visitors to think about the materials of fashion and the sources of their clothes. Image: Rose-patterned silk train (detail). Circa 1890s. ©Victoria and Albert Museum.

Museum of International Folk Art
Beadwork Adorns the World
April 22–February 3, 2019
Santa Fe, New Mexico   Learn More
The ultimate migrants, small glass beads travel the world and end up entering the cultural lives of people far away. This April, the Museum of International Folk Art opens the exhibition, Beadwork Adorns the World, exploring the transitory path of beads. Whether these extraordinary glass beads originated from the island of Murano in Venice, Italy or the mountains of Bohemia, where they start out is seldom where they end up. Artisans in their new locale make them into something specific to their own world view.
Very few cultures have ever lived in total isolation from other peoples. Contact with others beyond the immediate community allows for new markets and new uses for beadwork, as well as opportunities to survive creatively.
In most parts of the world, beads are highly valued and are used to mark peak moments in life. With their luster and sparkle used as an adornment or surface additive, they help to heighten the effect, the impact, the meaning. These special moments in the life of the community tend to revolve around life stages and passages, such as birth; becoming an adult; marriage and death; power, position, or status in the community; and communication with the spirits.
Much of the exhibition has been created from the Museum's extensive collection, but curator Marsha Bol has arranged loans of other pieces from the Field Museum, UCLA's Fowler Museum, the Roswell Museum and Art Center, and several private collections. Not all beads in the exhibit are made of glass. Some are constructed from metal, cloth, shell, stone, and other materials.
Backstage exhibition tours, running through mid-April, will take visitors into the workshops and restricted areas of the Museum to get a first-hand look at the exhibit development process. Additionally, publication of a companion book The Art & Tradition of Beadwork will be released concurrent with the exhibition opening.
Top: China poblana blouse, 1935. Mexico cotton, glass beads.  All photos courtesy of the Museum of International Folk Art.
Victoria and Albert Museum
Fashioned from Nature
April 21–January 27, 2019
This exhibition will present fashionable dress alongside natural history specimens, innovative new fabrics and dyeing processes, inviting visitors to think about the materials of fashion and the sources of their clothes.  Image: Mantua and petticoat of white brocaded silk, 1733-1734. © Victoria and Albert Museum, London.

Textile Tour Highlight
Textile Traditions of Bhutan
December 12–29, 2018  Learn More
This magical journey will wind through fertile valleys and villages, traversing the country to reach the little-visited textile heartland of "kushutara" in Eastern Bhutan. This trip is designed to deepen your experience of this fascinating country with a focus on Bhutanese textiles and interactions with locals. This tour has been crafted especially for people who love textiles, craft and local culture and who seek the immersive experience of travelling with Wendy Garrity, who has lived and breathed Bhutan and is passionate about the Bhutanese people, their culture, and particularly their weaving.

Museum of Fine Arts
Collecting Stories: Native American Art
April 14, 2018–March 10, 2019
Boston, Massachusetts  Learn More
The exhibition focuses on objects collected in the formative years of building the early holdings of Native American art at the Museum of Fine Arts. Highlights include an early Navajo blanket, a pair of important Eastern Woodlands moccasins, and a Plains headpiece, made of deer and porcupine hair.
Textile Tour Highlight
Textile Arts of the Andes
October 22-November 2, 2018
Join Andean Textile Arts for ten remarkable days visiting artisans in remote weaving villages plus stops at many of the greatest archeological sites of the Incan Empire, including two days at the citadel of Machu Picchu. Nilda Callañaupa, the founder and director of the Center for Traditional Textiles of Cusco, will accompany the tour to the weaving communities. The final day is spent in Lima, with a viewing of the Amano Museum's private collection of exquisite pre-Columbian textiles. Please contact Pam Art at pam.art@icloud.com for more information and to register. http://andeantextilearts.org/travel_tours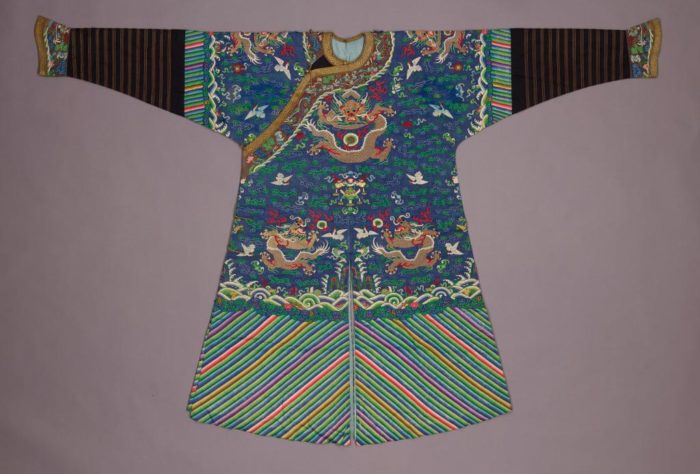 Dallas Museum of Art
Asian Textiles: Art and Trade Along the Silk Road
December 16, 2017–December 9, 2018
Centuries ago, Chinese silks prized in ancient Rome led to the forging of that complex and glorious trade route between the East and West known as the Silk Road. The Dallas Museum of Art's newest year-long installation, Asian Textiles: Art and Trade Along the Silk Road, highlights the passage of luxury goods en route that led to a rich interchange of arts and crafts and culture between China and the Mediterranean world and myriad stops along the way.
Drawn from the Dallas Museum of Art's collection, this exhibition showcases fine examples of garments and ornamental hangings from India, Central Asia, China, and Japan. The garments range from a Japanese fireman's coat to an Indian sari and a Chinese dragon robe. The textiles show a wide range of techniques found in Asian textiles, such as ikat weaving, metal-wrapping thread, and colored ink paintings on textile backgrounds.
The Museum has spent decades forming its collection of luxury Asian garments and ornamental hangings, but this exhibition celebrates the first time that a selection from its Asian collection has been presented in a stand-alone exhibition. It's a spectacular debut.
SaveSave