Home Page › Resources › Global Textile Events
Global Textile Events
Your Monthly Calendar of World Textile Events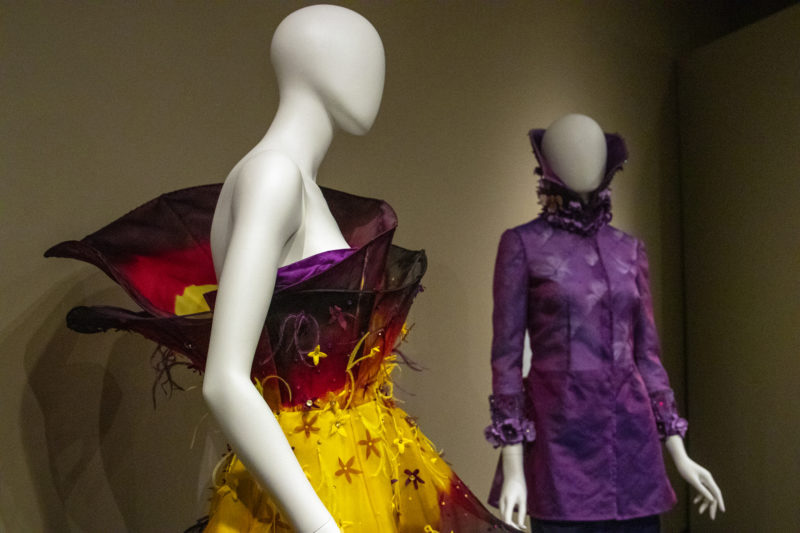 Avenir Museum of Design and Merchandising, Colorado State University
Walking in Beauty: Designs by Orlando Dugi
Thru December 14, 2019
Fort Collins, Colorado
https://www.chhs.colostate.edu/avenir/galleries/avenir-museum-gallery/
Santa Fe-based fashion designer Orlando Dugi combines beading and feather work from his Diné (Navajo) heritage with sophisticated modern silhouettes to create unique moments of fantasy. This exhibition presents examples of his women's evening wear and handbags in an exploration of the evolution of this unique designer. Orlando Dugi will speak about his work and career on Nov. 7, 2019 at 7 p.m.
Brunei Gallery, SOAS University of London
African Textiles from the Karun Thakar Collection
October 11 – December 14, 2019
London, England
https://www.soas.ac.uk/gallery/african-textiles/
African Textiles from the Karun Thakar Collection includes a selection of over 150 textiles from west and north Africa including Morocco, Tunisia, Ivory Coast, Mali, Sierra Leone, Nigeria, Ghana and Cameroon. Highlighting the sophistication of historical African textiles art and design, this exhibition will examine the links between west and north African textile traditions from one of the world's largest private collections of African textiles.
Edward Hansen Conference Center
International Quilt & Fiber Arts Festival
October 11 – 13, 2019
Everett, Washington
https://www.qfamuseum.org/international-quilt–fiber-arts-festival.html
A three-day event with lectures, workshops, a market, three exhibits—one of over 350 quilt and fiber art pieces. Of special note is an exhibit of quilts from 1840-1900, all from the private collection of Laurie Bingham.
Beijing Fashion Institute, National Costume Museum
Ragged Clothing Out of Transcendent Soul
October 19 – December 3, 2019
Beijing, China
http://www.amusemuseum.com/blog/2019/04/boro-world-tour.shtml
One of the many stops for the Boro world tour from the Amuse Museum in Tokyo. This exhibit features the collection of Chuzaburo Tanaka who walked the farming and fishing villages of Aomori from the mid-1960s, searching out these traces of the local love of fabric known as boro.
Pacific Northwest College of Art
Textile Connections Symposium
October 26 – 27, 2019
Portland, Oregon
https://www.portlandtextilemonth.com/event/textile-connections-symposium/
This symposium is part of a month-long celebrationof textiles in Portland, Oregon. Speakers include both heritage keepers and innovators, bringing together artists, costume designers, fashion editors, and all others who work with textiles for an exhibit, keynote speakers, panel discussions, a maker's market, and a Pecha Kucha competition.
Baltimore Museum of Art
Hitching Their Dreams to Untamed Stars: Joyce J. Scott & Elizabeth Talford Scott
Thru November 30, 2019
Baltimore, Maryland
https://artbma.org/exhibitions/hitching-their-dreams-to-untamed-stars
This exhibit brings together nine artworks—quilts, beaded and glass sculptures, weavings, and more—made separately or in collaboration by mother Elizabeth Talford Scott and her daughter Joyce J. Scott. The two lived together in Baltimore's Upton neighborhood for more than 60 years until Elizabeth Talford Scott passed away in 2011. Both artists developed extraordinary bodies of work, propelled by their phenomenal skill and shared drive to experiment.
Textile Museum of Oaxaca
Indigo
Thru January 19, 2020
Oaxaca, Mexico
https://www.museotextildeoaxaca.org/en-curso/anil-ai-nila-gara-tarom
Deep blue is a color linked to prestige, elegance and fortune. This exhibit brings together the history and lore of indigo as seen through the textiles of western Africa, where a large part of the ancestors of the Mississippi blouses and the coastal musicians of Oaxaca came from.
Museum der Völker
True Good Fabric – Woven and Embroidered Stories
Thru February 2020
Schwaz, Germany
https://www.museumdervoelker.com/post/gewebte-und-gestickte-geschichten
A kaleidoscope of micro-stories on textile art between Morocco and India from the 6th to the 19th century is being created in the museum: the creative conception of a pattern to the intricate coloring of ikat fabrics, cashmere fashion between India and France, or how to wear an Albanian xhybe.
RISD Museum
The Art and Design of Spider Silk
Thru April 19, 2020
Providence, Rhode Island
https://risdmuseum.org/exhibitions-events/exhibitions/art-and-design-spider-silk
This show explores the capabilities of spiders and how they have inspired and enchanted a host of engineers, artists, and designers looking to reimagine the tensile strength, luster, and beauty of spiderwebs. Sustainable design practices and cutting-edge uses of spider silk are surveyed across contemporary projects including a debut of shawls, by the design firm Godley & Peers, created from silk produced in Madagascar by golden orb spiders (Nephila madagascariensis).
Textile Tour Highlight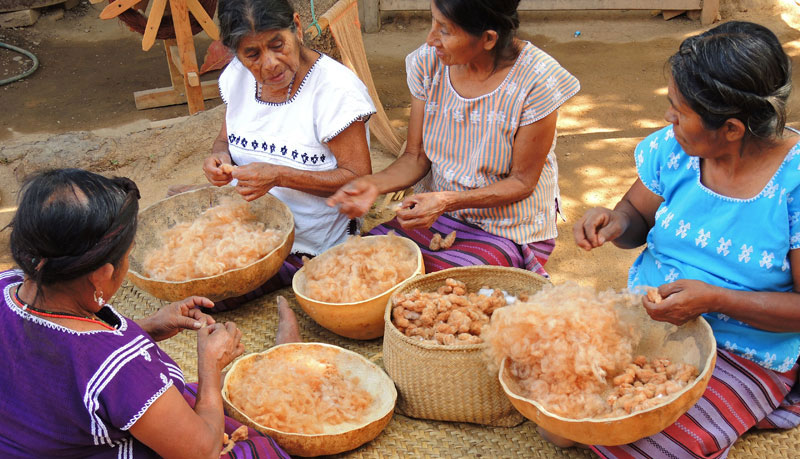 Cochineal

,

Indigo

and

Purpura

, A Dyer's Journey with Traditions Mexico
January 25-February 4, 2020
Arguably three of the most iconic natural dyes on earth, cochineal, indigo and shell-dyed purple are the focus of this dyer's journey and hands-on workshop. Travel to the UNESCO World Heritage city of Oaxaca, to the peaceful weaving village of Teotitlan del Valle, to a small cove on the tropical Pacific which is one of the last places on earth where mollusks are "milked" to create a purple dye.
Meet a collective of weavers and knitters working with brown cotton and reviving a village's economy, see how cochineal is used in traditional food, immerse yourself in a fascinating indigenous market, swim in the warm Pacific Ocean, see exquisite tapestry weaving, meet a group of weavers who work with shell dyed thread, eat delicious Oaxacan cuisine, travel through the sub-tropical coffee growing mountains of the Sierra Madre and more.
https://traditionsmexico.com/multi-day-tours/cochineal-indigo-and-purpura-a-dyers-journey/

Lynn Mecklenburg Textile Gallery, University of Wisconsin
Intersections: Indigenous Textiles of the Americas
September 5 – December 6, 2019
Madison, Wisconsin
https://sohe.wisc.edu/research-development/centers-of-excellence/cdmc/textile-collection/
From the Andes to the Great Lakes, weaving has been a part of many cultural narratives in relationship to community and tradition. The exhibition will survey a group of textiles in North, Central, and South America providing an in-depth understanding of the trade, functionality, design, and value of these objects. It is through this point of connection that the viewer can start to understand more about the relation of Native cultures and the significance of textiles.
Yale University Art Gallery
Ceremonial Dress from Southwest China: The Ann B. Goodman Collection
September 6, 2019 – January 5, 2020
New Haven, Connecticut
https://artgallery.yale.edu/exhibitions/exhibition/ceremonial-dress-southwest-china-ann-b-goodman-collection
This exhibition of over fifteen ensembles showcases the visual imagination, artistic skill, and technical knowledge in the ceremonial clothing of communities living in Guizhou, Sichuan, Hunan, Yunnan, and other provinces of southwestern China. While the Han people make up more than 90 percent of the inhabitants of China, the individuals who created the textiles on display identify as some of the 55 other groups, which are distinguished by lifestyle and language. Worn during life-cycle ceremonies, the clothing on view is made by the women of each community. They gather the cotton and indigo, dye the cloth, sew the garments, and embellish them with batik, embroidery, appliqué, and other techniques, blending traditional motifs with personal taste to create unique works of art.  Image: Woman's Funeral Tunic and Headscarf, China, Yunnan Province, Malipo region, Yi, late 19th–early 20th century. Indigo-dyed cotton with silk appliqué, silk tassels, metal coils, and glass beads. Yale University Art Gallery, Ann B. Goodman Collection, Gift of Ann B. Goodman
The Textile Museum, George Washington University Mu
Woven Interiors: Furnishing Early Medieval Egypt
August 31 – January 5, 2020
Washington D.C.
https://museum.gwu.edu/woveninteriors
In the early medieval era, the eastern Mediterranean's palaces, villas, and sacred spaces were richly decorated with hangings, curtains and other luxury fabrics intended for use in a range of sacred and secular spaces. Bringing together rarely displayed artworks from the 4thto 12thcenturies, this exhibition reveals how textiles infused warmth and beauty into Egypt's interior spaces.  Image: Hanging or curtain (detail), Eastern Roman Empire, Egypt or Turkey, 4th to 5th century. The Textile Museum 71.118. Acquired by George Hewitt Myers in 1950.
Minneapolis Institute of Art
Hózhǫ́, Manifesting Beauty: Navajo Textiles from the Cahn Collection
Thru October 20, 2019
Minneapolis, Minnesota
https://new.artsmia.org/exhibition/hozh%c7%ab-manifesting-beauty-navajo-textiles-from-the-cahn-collection/
Hózhǫ́ is a foundational concept in the Navajo world, encompassing ideas of beauty, harmony, balance, order, grace, health, and happiness. It is a state of being, thinking, and acting. Navajo artists embody hózhǫ́ as they weave, and textiles are imbued with and become works of hózhǫ́.
These Navajo textiles, created between 1850 and the early 1900s, are a small representation of an extraordinary gift of North and South American textiles from Paul and Elissa Cahn.  Image: Navajo artist Beeldléí or Dah'iistł'ó (Third Phase Variant), c. 1880 Wool, pigments Gift of Elissa and Paul Cahn 2017.127.
Los Angeles County Museum of Art
The Allure of Matter: Material Art from China
Thru January 5, 2020
Los Angeles, California
https://www.lacma.org/art/exhibition/allure-matter-material-art-china
Since the 1980s, Chinese contemporary artists have cultivated intimate relationships with their materials, establishing a framework of interpretation revolving around materiality. Their media range from the commonplace to the unconventional, the natural to the synthetic, the elemental to the composite. This exhibition brings together works from the past four decades in which conscious material choice has become a symbol of the artists' expression, representing this unique trend throughout recent history.  Image: Installation photograph featuring Gu Dexin's Untitled (detail) (1989). © Gu Dexin, photo © Museum Associates/LACMA
Iwatate Folk Textile Museum
Indonesian Backwoods Textiles
Thru November 9, 2019
Tokyo, Japan
http://www.iwatate-hiroko.com/current_exhibition/current_exhibition_en.html
Indonesia is composed of several thousand islands and has been regarded as a treasure house of textiles. With a focus on indigenous handcrafted works, this exhibition introduces textiles from the islands of Sumatra, Timor and Nusa Tenggara. These textiles, with unexpected combinations of colors and shapes, abound with primitive energy and provide current-day inspiration.  Image:  Wrapped Skirt, Sumatra Indonesia. Photo credit: Ryohei Sasatani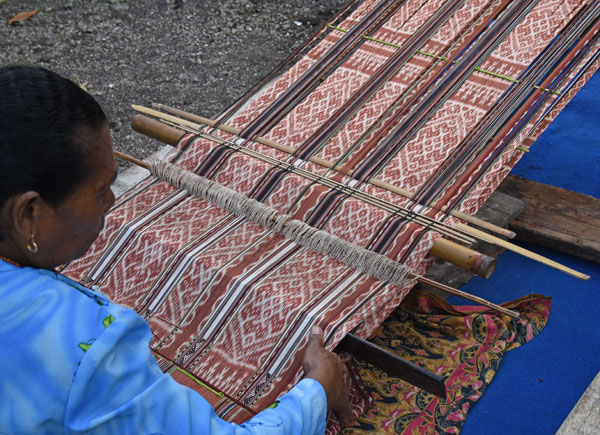 Textile Tour Highlight
Tribal Weavings of the Lesser Sunda Islands, Indonesia
May 14 – 25, 2020
Cruise through the last remaining strongholds of ikat woven textiles in the beautiful Lesser Sunda Islands. These remote islands of eastern Indonesia have one of the most diverse textile cultures on the planet. Handwoven cloth plays a pivotal role in the cohesion of all these societies, cementing clan alliances through complex gift exchanges, reinforcing tribal loyalties and underpinning the annual cycle of rituals. As some islanders emphasize, 'without cloth we cannot marry'. The encroachment of the modern world means that the number of communities where women continue to spin their cotton, prepare natural dyes and weave on traditional back-tension looms is limited.
This tour is expertly guided by David and Susan Richardson. Details can be found here www.asiantextilestudies.com/tour.html
The Ringling Museum of Art
Fabric of India
July 7 – Oct 13, 2019
Sarasota, Florida
https://www.ringling.org/events/fabric-india
This exhibition showcases over 140 superb examples drawn from the internationally-renowned holdings of London's Victoria and Albert Museum and private collections. The Fabric of India illustrates the variety, technical sophistication, and adaptability of Indian textiles from the 15th to the 21st centuries. Through a stunning range of historical dress, carefully preserved fabrics, and cutting-edge fashion, discover how Indian textiles have been interwoven with religion, politics, and global trade for centuries.  Image: Gujarati Embroidery (detail), 1680–1700; cotton embroidered with silk, 78 3/8 × 70 1/2 in. © Victoria and Albert Museum, London.
San Jose Museum of Quilt and Textiles
Mayan Traje: A Tradition in Transition
July 21­–October 13, 2019
San Jose, California
https://www.sjquiltmuseum.org/upcoming-exhibitions
The Maya of Guatemala are known worldwide for their excellent weaving and distinctive trajes (traditional clothing). These were once 100% village-specific, and people could be recognized as being from a specific place. Over time, many and diverse influences have caused significant change. This exhibit will show outstanding examples of clothing from the early 20th century to contemporary fashion, highlight key differences, and explore some of the reasons for these changes. On view will be individual pieces as well as full trajes from the rarely-displayed collection of the Friends of the Ixchel Museum.  Image: Ceremonial huipil (woman's blouse); Santa Lucía Utatlán;1930s/1940s.
Harwood Museum of Art
Embroidered History: Colchas and the Stitch that Defined a Region
June 2 – November 10, 2019
Taos, New Mexico
http://harwoodmuseum.org/exhibitions/view/225
Colchas are embroidered textiles or blankets whose origins have been traced as far back as the 16th century when New Mexico was New Spain, and expeditions packed with Iberian textiles were making their way up the Rio Grande Valley. Spanning continents and centuries, the Northern New Mexican colcha is a journey of craft, culture, and geopolitics that is defined by the hands of New Mexican women.  This exhibit shares locally made colchas, highlighting the 20th century works of Frances Varos Graves and her masterful assemblies redefined as the Carson colcha. Image: Frances Graves, Virgin on a Crescent Moon c. 1940 Colcha (wool).
Textile Tour Highlight
Colorful India: Textiles, Crafts and Beyond!
February 13 – 29, 2020
https://wanderingearltours.com/group-tours/india-textiles-crafts-beyond-2020/
This 17-day journey through Rajasthan and Gujarat is a private, small-group tour (max. 12 people) specifically geared to textile enthusiasts. Filled with hands-on textile workshops, visits with local artisan families and collectives, ample time for browsing through shops and markets and a few incredible opportunities to "give back". Perfect for textile enthusiasts of all sorts, as well as anyone curious about travel to India with its staggering abundance of craftsmanship.
Textile Tour Highlight
Textiles of Egypt in Style with Nancy Hoskins and Christine Pearson
16 Days | 29 October – November 13, 2019
https://intent.id.au/textiles-of-egypt-in-style-with-nancy-hoskins/
Join Nancy Hoskins, an authority on Egyptian textiles past and present, as she and tour concierge Christine Pearson expertly guide the textile program to Egypt along the Nile Valley. Together with numerous interactions with weavers, carpet makers, embroiderers, and Nubian village crafts people, Nancy will explain the intricacies of historical garments and textiles found in museums and galleries. The expanse of fiber craft covers fine museum examples to the everyday items found in markets and elsewhere.
Accommodation is very characteristic and comfortable in Alexandria, Cairo, Luxor, and Aswan, with a highlight being a five-day, Edwardian-era dahabiya cruise along the Nile, calling in at the famous sites found nearby. The ten-cabin craft includes comfortable cabins, all meals and private sightseeing, thus avoiding the crowds.
Arvind Indigo Museum at Kasturbhai Lalbhai Museum
Alchemy
Ongoing
Ahmedabad, India
http://kasturbhailalbhaimuseum.com/
The Arvind Indigo Museum will host its first exhibition, Alchemy, inviting contemporary artists and artisans to experiment with indigo in new and innovative ways. An expansive, dedicated space is set to follow later this year which will become the collection's permanent home. This future home promises to tell the incredible story of indigo — a natural dye which holds a special place in India's history. Image: Gregory Hildebrandt, Untitled, 2018; photo courtesy Galerie Isa.
https://www.vogue.in/content/everything-you-need-to-know-about-the-new-arvind-indigo-museum-ahmedabad/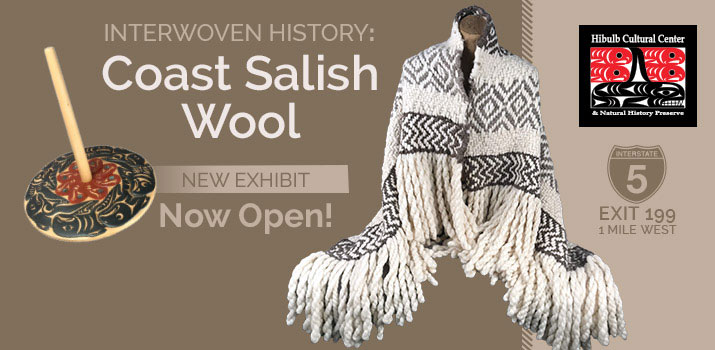 Hibulb Cultural Center & Natural History Preserve
Interwoven History: Coast Salish Wool
No closing date set
Tulalip, Washington
https://www.hibulbculturalcenter.org/Exhibits/Coast-Salish-Wool/
Since time-immemorial, Coast Salish people have relied on natural resources to create textiles that communicate status, wealth, and functionality. An almost lost tradition, wool weaving has endured a revitalization over the last decade. This exhibit explores the history of the extinct woolly dog and invites visitors to learn about the fundamentals of weaving, while exploring the materials, techniques, processing, and technology.
Textile Tour Highlight
Sri Lanka: Emerald Island
February 9-23, 2020
https://www.exclusivejourneys.com/the-island-of-sri-lanka-february-2020-15-days/
Join Lesley Robin in Sri Lanka and discover this tiny island nation in the Indian Ocean situated southeast of India. A cultural melting pot, it is renowned for its ancient cities, Buddhist ruins and temples, with a wonderful and diverse landscape of mountains and forests, wildlife and exotic birds, as well as the rolling hills of tea plantations and small villages of the Central Highlands. Today there is a strong revival of handloom traditions and you will find beautiful contemporary fabrics inspired by the landscape, flora and fauna of this island. A treat awaits you as we visit artisans and communities at work in their homes and villages… earthenware and clay roof tiles, batik and stitchwork, weaving and dyeing. From lowland jungles and tropical coastlines to the misty heights of the Hill Country, come and experience the beauty of this emerald island abundant with superb photographic opportunities
Textile Tour Highlight
Andean Textile Arts Tour to the Cusco Highlands, Peru
October 21-November 1, 2019
This is a yearly tour so if not this year how about next year?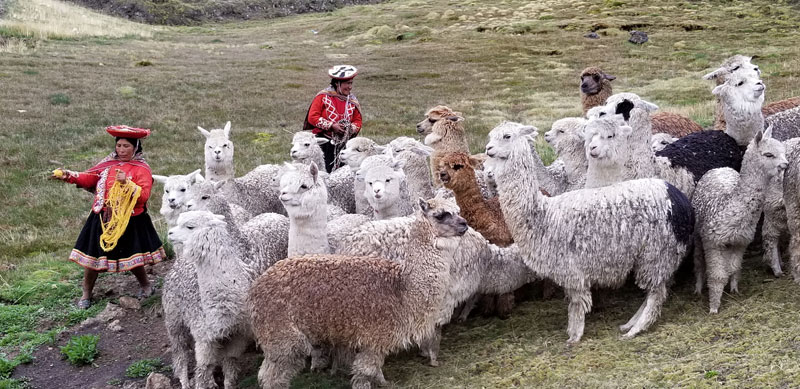 Join Andean Textile Arts for ten remarkable days visiting artisans in remote weaving villages plus stops at many of the greatest archeological sites of the Incan Empire, including two days at the citadel of Machu Picchu. Nilda Callañaupa, the founder and director of the Center for Traditional Textiles of Cusco, will accompany the tour to the weaving communities. The final day is spent in Lima, with a viewing of the Amano Museum's private collection of exquisite pre-Columbian textiles. Please contact Pam Art at pam.art@icloud.com for more information and to register. http://andeantextilearts.org/travel_tours

Queen Sirikit Museum of Textiles
A Royal Treasure: The Javanese Batik Collection of King Chulalongkorn of Siam
November 1, 2018—May 2021
Bangkok, Thailand
This exhibition is dedicated to showcasing this collection and telling the story of His Majesty King Chulalongkorn's three trips to Java and his fascination with batik. It presents exceptional examples of batik from His Majesty's collection which have never been publicly displayed.
Textile Tour Highlight
Silk Study Tour to Japan
Who goes on the Silk Study Tour to Japan?  Artists, makers, educators, life-long learners, writers, textilians, historians, Japanophiles, and those wanting to learn more deeply about silk and Japan. In this sixth excursion of the Silk Study Tour, the focus remains to foster a continuous thread of communication and education with Japanese silk masters, educators, and artisans that will lead each traveler into a new fiber future. It offers future exchanges of silk information and provides teaching and marketing opportunities on both sides.See traditional Japanese sericulture practices on a farm, visit indigo dyers, and try your hand at katazome.
Contact Glennis Dolce at silkstudytour@shiborigirlstudios.com
SaveSave