Home Page › Resources › Textile Videos
Textile Videos
ClothRoads Top Picks for Textile Videos
We've lined up some textile videos for inspiration and information in the form of video clips, documentaries and images to transport us in time and place. While some of these may be textile eye-candy, others are very relevant to healing ourselves, our communities, and our world. There is no better time or reason to renew our commitment to what we create with our hands and/or support those who do.
Indigo
Produced by Shashwat Parhi
7 min, 54 sec
A short film on indigo in India showing the stages from farming to dyeing. This is a shorter version of a larger body of work that is in development.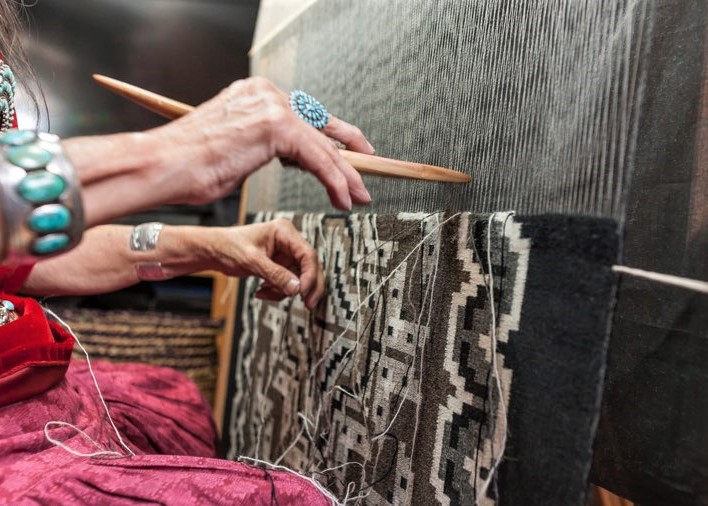 Barbara Teller Ornelas on Weaving; Ruth Teller Weaves with Color
Produced by Craft in America
3 min, 48 sec; 2 min, 39 sec
https://www.craftinamerica.org/short/barbara-teller-ornelas-on-weaving
https://www.craftinamerica.org/short/ruth-teller-weaves-with-color
Two short clips from the PBS series Craft in America feature Navajo weavers Barbara Teller Ornelas, Lynda Teller Pete, and a tender reminiscence of their mother Ruth Teller.
Barbara and Lynda are fifth-generation Navajo weavers known for weaving in the traditional Two Grey Hills pattern. Their father, Sam Teller, worked at the Two Grey Hills Trading Post in New Mexico, where they were raised with their sister and two brothers. The sisters teach Navajo weaving workshops throughout the country. Their book, Spider Woman's Children: Navajo Weavers Today, is available for purchase at Thrums Books.
Watch more interviews with artists at Craft in America
https://www.craftinamerica.org/shorts/by-material
Harvesting Liberty
Produced by Dan Malloy in conjunction with Patagonia
12 min, 39 sec
Industrial hemp is a crop that has the potential to lower the environmental impacts of textile production, empower small-scale farmers and create jobs in a wide variety of industries. Two non-profit groups, Fibershed and Growing Warriors, are working to reintroduce industrial hemp into Kentucky—and eventually U.S. agriculture.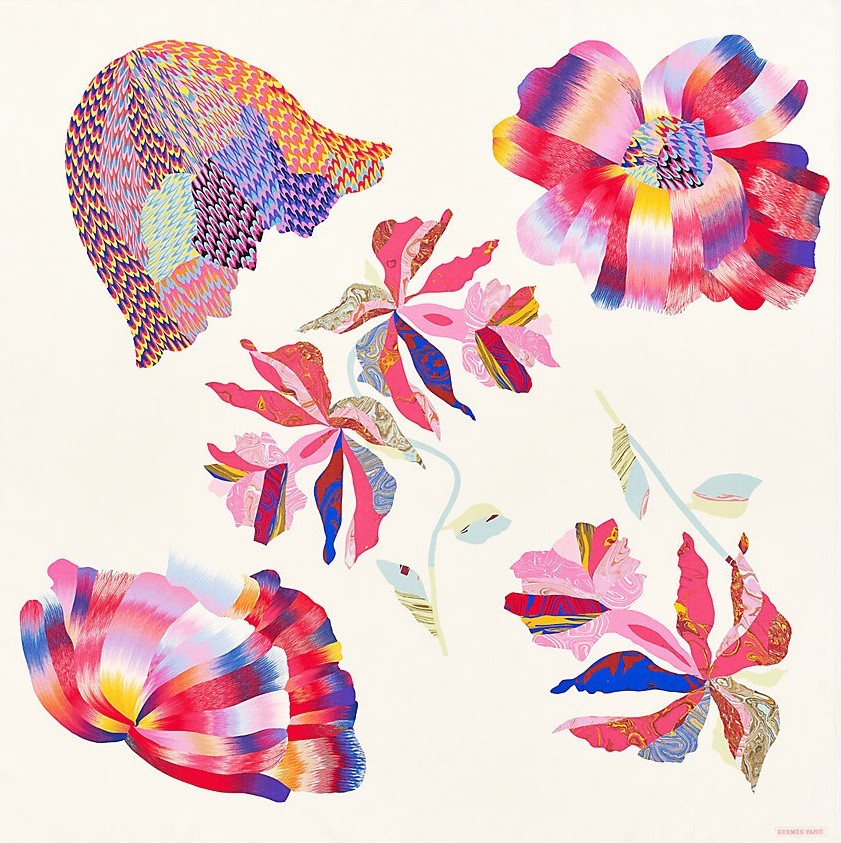 Silk Marbling: A Japanese Technique Rediscovered
Directed by Frédéric Laffont
7 min, 30 sec
Droplets, waves and mountain–the etchings in blocks of stone were the inspiration for the Japanese master bookbinders' marbled paper. Inkjet printing has allowed these effects to be transferred to fabric. But the printing was nowhere near to producing the delicacy and radiance of the patterns found by Hermès in an old album in the archives of its Lyon textile sector. After years of research, this technique of silk marbling was rediscovered in Kyoto, the Nose family still holding the knowledge. This short video is part of the Hèrmes Paris, Footsteps Across the World Collection which focuses on artisan sustainability around the world.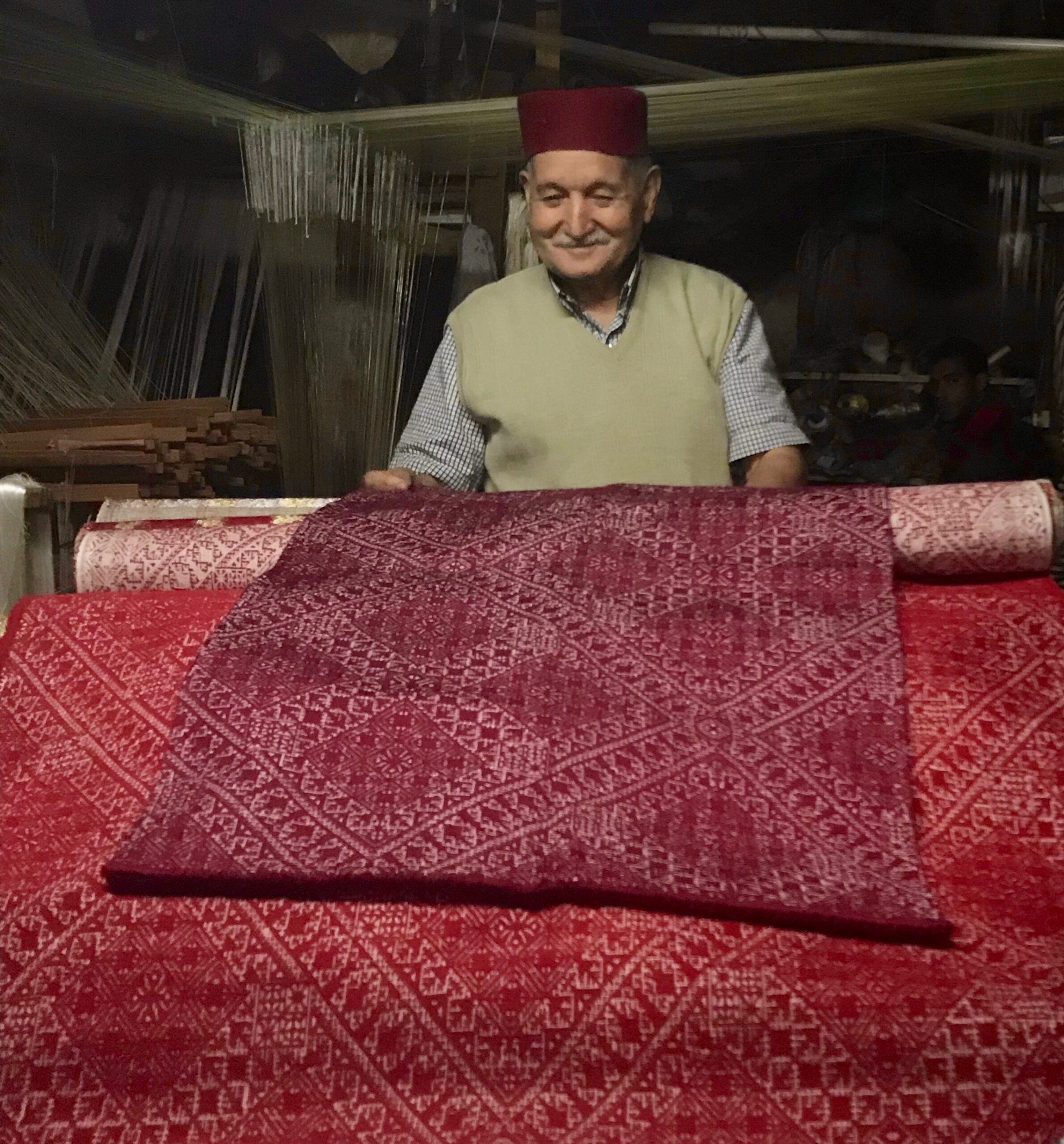 Adbelkader Ouazzani: Morocco's Last Brocade Weaver
2 min, 45 sec
Abdelkader Ouazzani, last of Morocco's brocade master weavers, has been repeating the same gestures for 63 years in his dilapidated workshop in the heart of the old city of Fes. Under his fingers, shimmering silk fabrics are woven on a draw loom in the same fashion for hundreds of years. ClothRoads and Thrums Books visited his studio during our textile tour to Morocco.

Unravel: The Incredible Cross-Cultural Story of Clothes Recycling  
Produced by Meghna Gupta and Gigi Berardi
13 min, 30 sec
When people in the West throw their clothes away, their cast-offs often go on a journey east, across the oceans, to India's industrial interior. From the Kutch District of western India to the northern city of Panipat, garment recyclers turn the huge bales of clothes into yarn. With little exposure to Western culture other than the Discovery Channel, the garment recyclers rely on their imagination and the rumors that travel with the cast-offs to create an intriguing perspective on the West.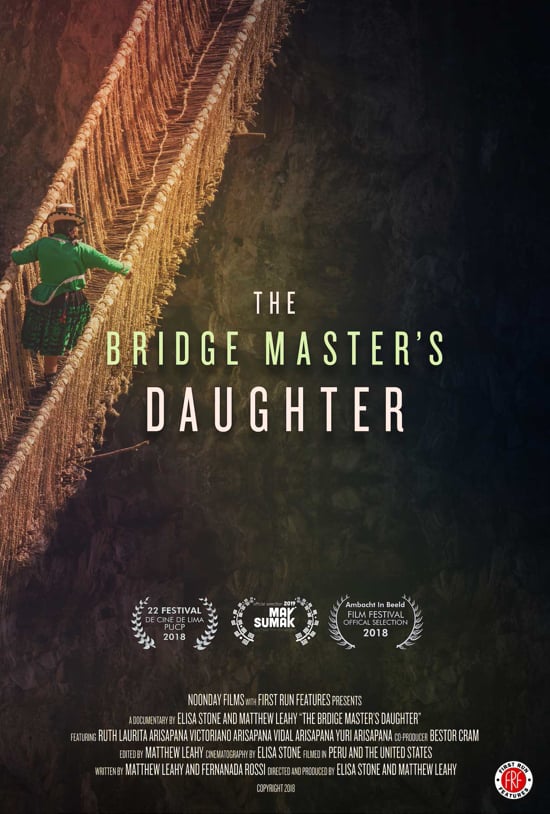 The Bridgemaster's Daughter
Documentary produced by Matthew Leahy
1 hr, 24 min
https://vimeo.com/ondemand/thebridgemastersdaughter
In the remote Andean highlands of Peru, Victoriano Arisapana cares for the woven footbridge that has stretched over the gorge for hundreds of years. The secrets of this bridge, the only one left from the ancient Incan empire, have been passed down by the men of Victoriano's family for 300 years. Victoriano is the Bridge Master, the one who has inherited the sacred task of weaving the bridge and of making the sacrificial offerings to the mountain spirits each year. But his sons are drawn to life in the city and his daughter is prohibited from this male-only tradition. When she goes missing a week before the start of 9th grade, this Andean farmer must confront an uncertain future, caught between preserving family tradition and losing his children to a world of change

Murasaki (Purple)
Produced by Art True Films
77 min, English subtitle version
[link to full movie] IMDb 
https://www.imdb.com/title/tt1949573/
[clip]
https://vimeo.com/ondemand/murasaki/277203162
This artisan documentary presents Sachio Yoshioka, the present head of a Dyeing Company "Dye maker Yoshioka" in Kyoto, Japan. Upon inheriting his family's craft, Yoshioka decided to return to the old techniques of procuring natural dyes from the environment. The organic colors of Kyoto's pure spring water and plants are far more beautiful and enchanting than any chemical dye produced in a lab. Yoshioka teamed up with another dye specialist, Denji Fukuda, to run a traditional organic dye factory, a rarity in 21st century Asia. Official Website: https://essay.tokyo/murasaki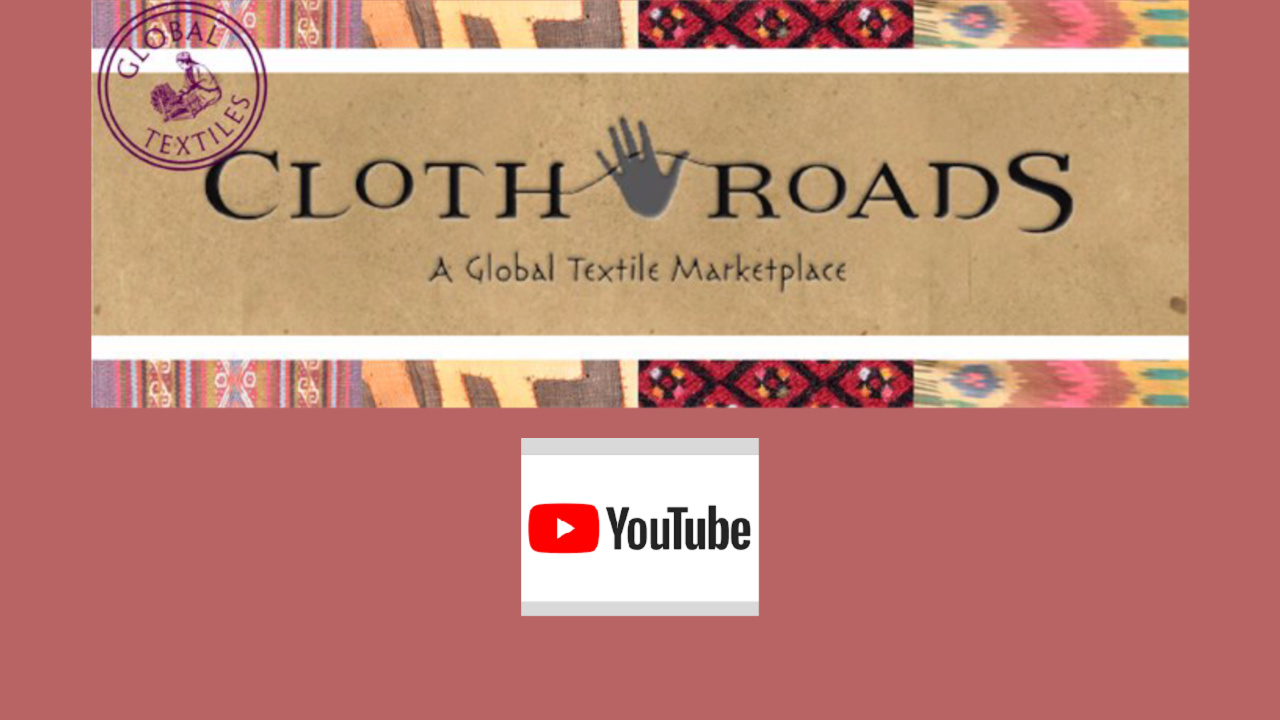 ClothRoads YouTube Channel
Over the years, ClothRoads has added quite a few video clips (mainly from our travels and interviews) to the ClothRoads YouTube channel. Enjoy these as well.
https://www.youtube.com/user/ClothRoads/videos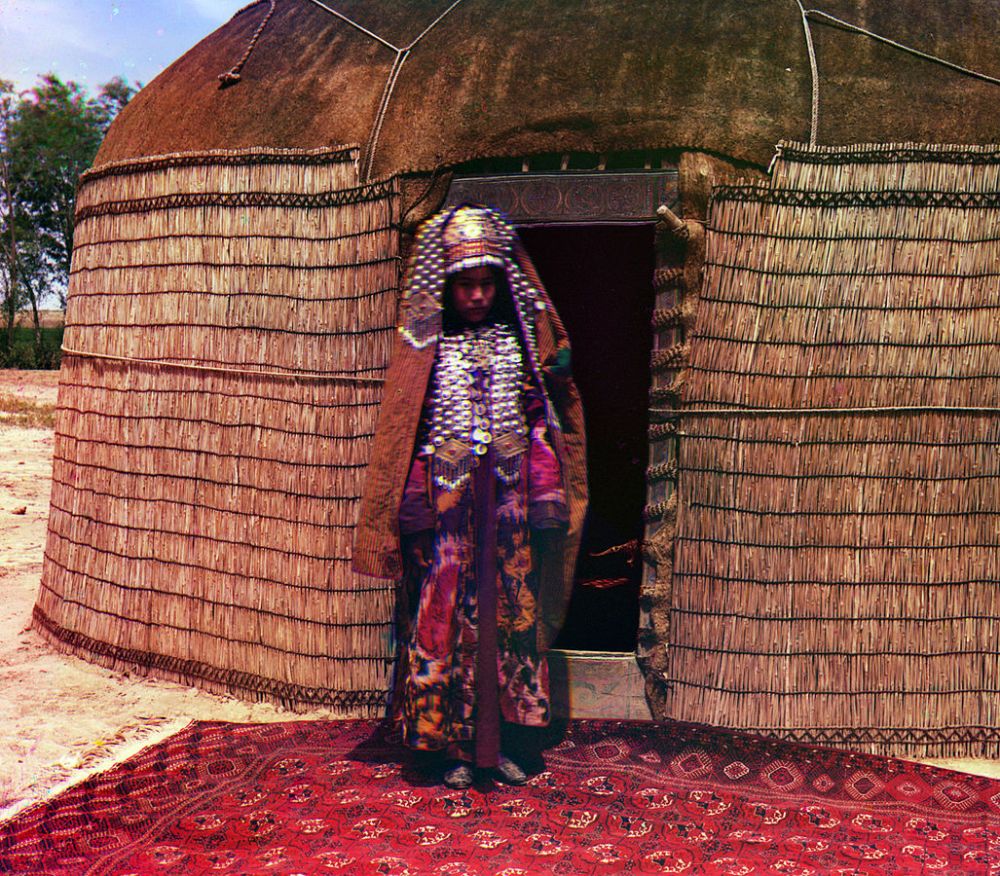 Photos from the Silk Road
Thanks to Elmira Cancelada, textile artist and blogger for "Of Yarn and Cloth", for posting these rare color photographs from the Silk Road taken in 1906 – 1910. The photographer Sergey Prokudin-Gorsky, an offspring of the Russian nobility and an enthusiast of color photos and movies, took color photographs in Samarkand and Bukhara between 1906 and 1910. Both cities are ancient Middle-Asian centers and were major stops on Silk Road. These photographs were a part of a large photographic project that documented the different corners of the vast Russian Empire. Among the hundreds of scenic photos, there were several portraits of the local inhabitants from the different layers of the society
https://fiberlure.com/2020/02/26/clothes-circa-1906-i-middle-asia-along-the-silk-road/

Textile Collection Online
Helen Louise Allen Textile Collection
University of Wisconsin, Madison
In last month's calendar, I noted the opening of the Lace exhibit from the Helen Louise Allen Textile Collection at the University of Wisconsin, Madison. The opening has been delayed until the end of April but they have even more to offer now. You can explore more than 9,000 objects in their 13,000+ piece collection using a free online tool.
https://sohe.wisc.edu/research-development/centers-of-excellence/cdmc/textile-collection/41842-2/

An Inspiring Artist
In closing, here's Shyla Tootoosis, a Jingle Dress healing dancer from Saskatchewan's Thunderchild First Nation, dancing for the victims of the COVID-19 pandemic spread.
https://www.facebook.com/100001633963290/videos/2965199970211106/